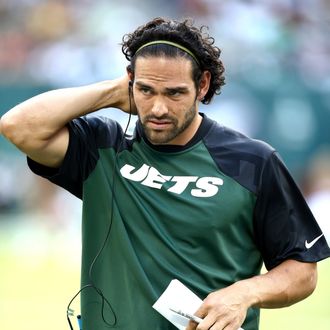 Photo: Jeff Zelevansky/Getty Images
Jets quarterback Mark Sanchez reportedly has a labral tear in his right shoulder and is likely to have season-ending surgery, according to ESPN. Sanchez visited with Dr. James Andrews yesterday and has not yet decided whether to have the surgery. But such an operation could very well mean the end of Sanchez with the Jets: A source close to Sanchez tells ESPN that it wouldn't make sense for the quarterback to put off surgery, considering the circumstances of the injury and the team's commitment to Geno Smith.
Sanchez arrived in New York during a period of optimism for the Jets. With the Brett Favre Experiment over and new coach Rex Ryan guaranteeing big things for the team, Sanchez got the starting job right away during his rookie season. The Jets went to the AFC title game in each of his first two seasons, with Sanchez mostly getting labeled a "game manager" on a team with a great defense.
Sure, all the talk of poise was nauseating, but the Jets had made two deep playoff runs in Sanchez's first two seasons. For a fan base as tortured as the Jets', it was a rare opportunity to get excited. (Things were going so well for the Jets that a certain magazine, ahem, may have giddily proclaimed that the city now had two star quarterbacks.)
Let the record show that in January of 2011, with the Jets a win away from the Super Bowl, Sanchez put together a monster second half in Pittsburgh and almost led — yes, led — the Jets back from a 21-point halftime deficit.
And let the record also show that from that point on, things devolved: The Jets finished .500 the following year and missed the playoffs. During the following off-season, Sanchez was given a big contract extension … but the Jets also brought in Tim Tebow, guaranteeing an altogether different circus than the one Ryan had previously been overseeing. Sanchez would begin the season as the starter, but by the end of 2012, it was hard to have any confidence in him. Needless to say, GQ was no longer interested in putting Mark Sanchez on its cover.
The selection of Smith this spring meant Sanchez would have to win the starting job during training camp, but Sanchez's injury during garbage time against the Giants ended that competition abruptly. Now it appears it could also end his Jets career. It's been eventful, to say the least.
So if Sanchez really has played his last game as a Jet, we say farewell, Mark. We'll always have those two playoff runs. Of course, we'll always have the buttfumble, as well.