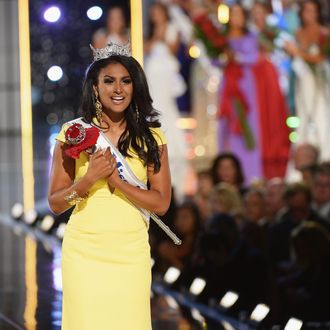 Nina Davuluri.
Photo: Michael Loccisano/2013 Getty Images
When Mallory Hagan became Miss America in January, the Brooklynite was the first Miss New York to win the pageant since 1984. Now it appears we're on a roll. On Sunday night, Miss New York Nina Davuluri took home the crown, becoming the first Miss America of Indian descent. For those who don't keep tabs on their state's reigning pageant queen, the 24-year-old is from Syracuse, she hopes to become a doctor like her father, and she revealed to Syracuse.com recently that she once battled bulimia. While she denies the Post's recent claim that she called Hagan "fat as [bleep]," she did unintentionally cut short her predecessor's reign. The pageant's date was moved up this year when it returned to Atlantic City after a six-year stint in Las Vegas.
After proving her ability to walk across a stage while clad in just a swimsuit, Davuluri performed a Bollywood fusion dance for the talent competition. Finally, she answered a Julie Chen–related plastic surgery question, boldly declaring that women should not go under the knife, but "be confident in who you are." Unfortunately, Davuluri missed her opportunity to offer a solution to the crisis in Syria, or answer the New Yorkiest question of them all:  Without naming names, are wives who continue to support their sexting, cheating politician husbands taking "stand by your man" too far?