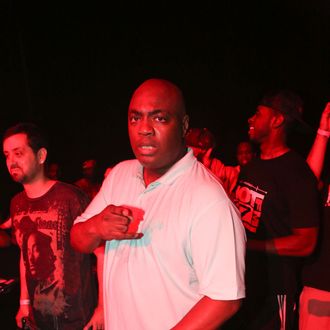 Photo: Johnny Nunez/Getty Images
The New York City institution that is Hot 97 D.J. Mister Cee — a hip-hop saint known for his early work with Big Daddy Kane and Notorious B.I.G.— ended this afternoon in an outwardly triumphant but deeply unfortunate way. "I'm resigning today," Cee announced, suddenly, over Biggie's "Hypnotize" instrumental. "It is not a mystery that the past two years I've been through a lot, and I've tried to deal with it the best way that I could deal with it, and Hot 97 has tried to deal with it the best way they've had to deal with it. But when you're dealing with corporate America and you're dealing with a station you love as much as this station, I don't want to put this station through more than what they've been through." He was referring to his proclivity — and past arrests — for soliciting male or transgendered prostitutes in his car.
Cee's personal life was first aired out in 2011, when he was arrested while receiving oral sex from a 20-year-old man, but he chose to put his head down and play records ("Hate Me Now," "Can I Live," "Hate It or Love It") instead of addressing the speculation directly. He was picked up again this year and forced to address his sexuality in an awkward on-air confrontation with his colleagues ("I am not gay," he said, sparking yet another conversation about homophobia in the hip-hop unviverse).
Today, a video hit the Internet in which someone going by the name Bimbo Winehouse claimed to have audio of a failed business encounter with Cee. It may have been the last straw, although it still has nothing to do with picking songs. "While we do not endorse the alleged activities, he is clearly facing a personal dilemma that is for him and only him to comment on," said the station.
During his final Throwback at Noon mix, Mister Cee played a host of local classics (hear the whole thing here), ending on Mobb Deep's "Shook Ones Pt. II," and once again obliquely referenced his controversial habits. "Tricking is my thing. I trick. That's my thing," he said, in reference to his preferred means of getting off. "I am still one of the nicest D.J.'s," he added. "Let's not get it messed up."