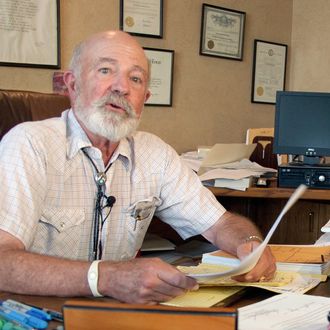 Judge Baugh.
Photo: Matt Brown/AP/Corbis
The national outcry over a judge's decision to suspend all but 30 days of a fifteen-year prison sentence for a Montana teacher's admitted rape of a student who later committed suicide may have worked. At the very least, the heightened scrutiny on the case reminded District Court Judge G. Todd Baugh that "imposing a sentence which suspends more than the mandatory minimum would be an illegal sentence," he said in a new order, according to the Billings Gazette. A new hearing is scheduled for Friday afternoon; the minimum sentence "appears to be two years."
In the aftermath of the outrage, Baugh also admitted he was a "blithering idiot" for saying that the 14-year-old victim seemed "older than her chronological age" and was "as much in control of the situation" as her rapist.
The former teacher, Stacey Dean Rambold, landed a deal after his victim took her own life a few years after the abuse, but before her case could be heard in court. After he failed to meet the requirements of his sex offender treatment program, Rambold landed back in court to face punishment for the violations of his agreement.
Judge Baugh, meanwhile, has dodged demands for his resignation, including an online petition nearly 47,000 strong.
Auliea Hanlon, the victim's mother, said through a lawyer that she "continues to appreciate the support from the community and from folks all across the nation." When Rambold's sentence was handed down, she yelled, "You people suck!" at the court. As for Friday's hearing, "Certainly, Auliea will want to try and attend, but it's been a pretty overwhelming week already," said her lawyer. "She'll have to decide whether she can do that again."