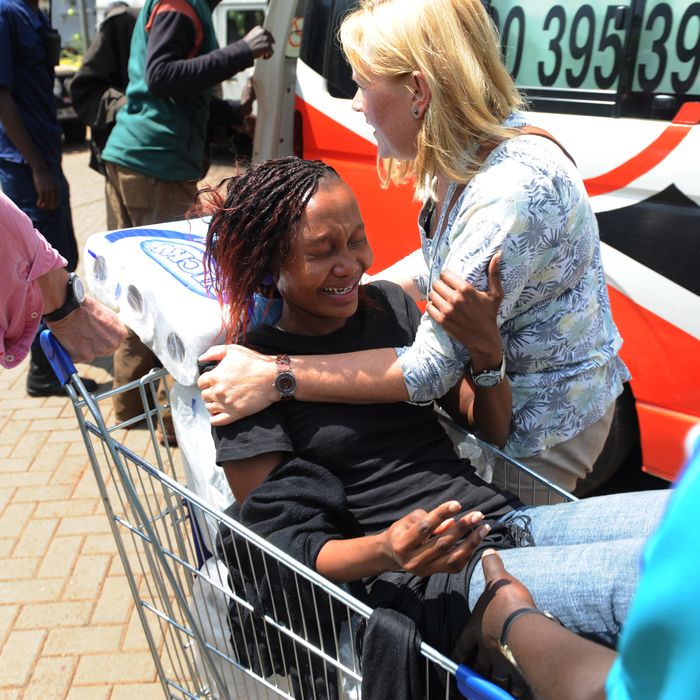 Some victims in Saturday's shooting were wheeled out of the mall in shopping carts.
Yesterday, members of Somalia's al-Shabaab militant group launched a terrorist attack Westgate Mall in Nairobi, killing dozens of visitors with AK-47s and grenades. The death toll in the ongoing situation has now reached 59, with another 175 people injured. Kenya's cabinet secretary for the interior, Joseph Ole Lenku, said more than 1,000 people have been safely evacuated from the mall, but declined to estimate how many civilians were still inside. He also would not confirm that any were being held hostage, The Wall Street Journal reports. Kenya's Red Cross reported another 49 people missing. Meanwhile, Kenyan President Uhuru Kenyatta, who previously offered his condolences and empathy in a television address Saturday night, has now revealed that his nephew and his nephew's fiancé were among those killed.

Because the gleaming mall was a favorite with expatriates, the attack claimed the lives of a fair amount of international residents. Canada said two citizens, including a diplomat, died, while United States officials said the wife of a foreign service national was killed, and other American citizens are among those injured. President François Hollande described it as a "cowardly attack" and said that two French citizens were killed.
Of the ten to fifteen attackers suspected of carrying out the attack, the BBC reports five were arrested, though one of them has since died. Lenku said that his staff was able to gain control of the mall's closed-circuit television monitors, but the Kenyan government has not been in direct contact with those still inside. From the mall, a police officer told Reuters that the remaining gunmen had barricaded themselves in a Nakumatt supermarket, possibly with hostages. The Kenya National Disaster Operation Centre wrote on Twitter, "The gunmen have been contained in one location, but there are hostages elsewhere in the vicinity who cannot access the exit." Elsewhere on Twitter, al-Shabaab insisted they would not be negotiating with Kenyan officials: "10 hours have passed and the Mujahideen are still strong inside Westgate Mall and still holding their ground. All praise is due to Allah!" read one tweet from the Al-Qaeda linked group.
Update: Now that Kenyan security forces are claiming to have rescued the majority of hostages, the Associated Press reports  they're also planning to end the standoff inside the Nairobi mall by launching a "major" assault on the remaining militants Sunday night. As has become typical during this two-day situation, Kenya's National Disaster Operation Centre made an announcement on Twitter: "This will end tonight. Our forces will prevail. Kenyans are standing firm against aggression, and we will win." You can watch video footage by someone who escaped the mall in a video given to CCTV Africa below. Meanwhile, the Kenyan Red Cross now says 68 people have been killed.