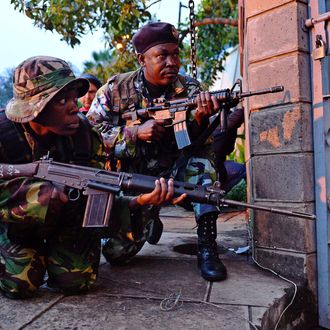 Photo: CARL DE SOUZA/AFP/Getty Images
The horrifying terrorist attack at a Kenyan mall carried into its third day on Monday, as police forces attempted to free remaining hostages. The exact number of victims and gunmen still inside remains unclear today, but "a series of loud explosions and gunfire were followed by a plume of black smoke," Reuters reports.
"We don't want to give you a definitive position on when we think the process will come to an end, but we are doing anything reasonably possible, cautiously though, to bring this process to an end," said a Kenyan official, who added that two of the attackers have been killed in the battle. "The terrorists could be running and hiding in some stores, but all floors now are under our control," he said. "There is no room for escape."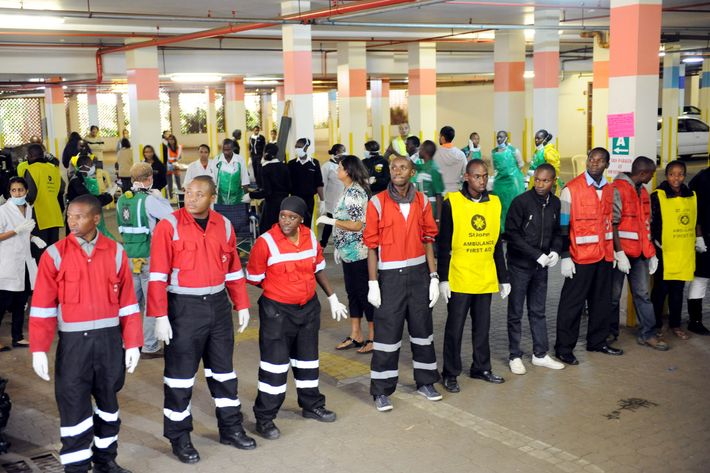 The death toll is now up to at least 69, with 63 missing, and another 175 people injured at the hands of Somalia's al-Shabab, which has claimed responsibility for the attack.
In a disturbingly modern twist, the two sides are using the Internet to fight the PR battle as the standoff continues inside. Via Reuters:
"Israelis and Kenyan forces have tried to enter Westgate by force but they could not," Sheikh Ali Mohamud Rage said in an audio statement posted online. "The mujahideen will kill the hostages if the enemies use force."

On Twitter, the group posted: "They've obtained large amounts of ammunition and are, by the blessings of Allah alone, still firm and still dominating the show."
Kenya's Inspector General of the National Police Service has the other side: