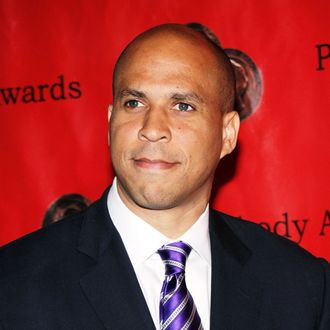 60476854
Photo: Bryan Bedder/Getty Images
Following up on its shocking revelation that Cory Booker's drug-dealer friend is imaginary, the National Review set out to learn more about Wazn Miller, the teen who Booker claims died in his arms from a gunshot wound in 2004. Editor Rich Lowry claims they were "stonewalled" when they tried to obtain public records on the unsolved murder, and the magazine announced on Wednesday that it's suing Booker, the City of Newark, and the Newark Police Department. Though a Booker spokesman denounced the move as a "partisan stunt," it was successful; hours later the records miraculously turned up.
Booker's camp says the publication knew authorities were hunting down a hard copy of the incident report from the days before electronic records, and raised no objection when the city clerk said they'd need until Friday. The documents will be turned over on Thursday, and it's likely they'll support Booker's version of events. A former Newark police director says he saw Booker covered in blood, and recalls him staying with Miller until he was taken to the hospital. Lowry responded, "We'll see what they produce."
Luckily for the National Review, there's no shortage of incredible Booker stories to investigate next. Sure, there's video of Booker carrying a shivering dog into a police cruiser, but was Cha Cha really that cold?