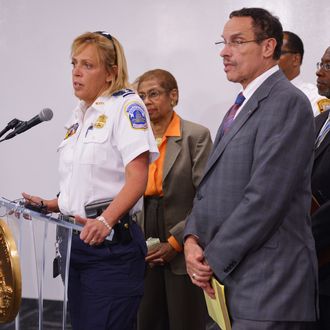 Photo: MANDEL NGAN/AFP/Getty Images
As employees at the Navy Yard continue to wait for clearance to leave after this morning's horrific shooting, Police Chief Cathy Lanier announced the city was lifting a shelter-in-place order for the neighborhood around the facility as police were no longer searching for a second gunman. Investigators have "exhausted all means available to support or discount" the lookout order issued earlier for a possible shooter in addition to suspect Aaron Alexis. Meanwhile, more information is available on those killed and injured, as well as those waiting to leave the Navy Yard after a very, very long day.
Authorities released identities of seven of the thirteen killed, whose families had been notified, in a press release following the conference.They include Michael Arnold, 59; Sylvia Frasier, 53; Kathy Gaarde, 62; John Roger Johnson, 73; Frank Kohler, 50; Kenneth Bernard Proctor, 46; and Vishnu Pandit, 61. Lanier said none of those killed appeared to be active-duty military. The ages of the dead range from 46 to 73, Mayor Vincent Gray said.
A total of eight people were injured, including one Washington, D.C. police officer, Scott Williams, who was shot in the leg. Three of the injured were shot, Gray said. "The other five injuries range anywhere from stress reaction to someone who fell and had a head injury, contusion to the chest, arm abrasions and chest pain."
One employee who survived the morning's gunfire hid in a locker for nearly eleven hours, police told the Washington Post. A SWAT team found the worker in the locker at around 7 p.m. Some 2,000 Navy Yard employees were still at work at 8:30 p.m., Vice Adm. Bill French told the Post. The FBI must process each one, and French didn't expect them all to get clearance to leave the facility until 11 p.m. But at the press conference, Valerie Parlave, the director of the bureau's Washington field office, said "most people who are still alive have been removed from the Navy Yard."