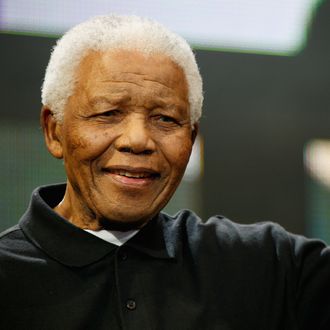 Photo: Gareth Davies/2008 Getty Images
Former South African president Nelson Mandela has been released from a Pretoria hospital after a three-month stay. The anti-apartheid leader has been transferred to his home in Johannesburg, where his doctors will administer "the same level of intensive care" he received at the hospital, according to the office of South Africa's president Jacob Zuma. "If there are health conditions that warrant another admission to hospital in future, this will be done," Zuma's statement added. Mandela is suffering from a persistent lung infection and was widely reported to be near the end earlier this summer, though his condition has since improved somewhat. Still, the world has been preparing itself for the 95-year-old's demise, as evidenced by the Sunday morning release of a statement by former president George Bush mourning Mandela's death:
"Barbara and I mourn the passing of one of the greatest believers in freedom we have had the privilege to know. As President, I watched in wonder as Nelson Mandela had the remarkable capacity to forgive his jailers following 26 years of wrongful imprisonment — setting a powerful example of redemption and grace for us all. He was a man of tremendous moral courage, who changed the course of history in his country. Barbara and I had great respect for President Mandela, and send our condolences to his family and countrymen."
Bush's spokesman quickly apologized for the mistake, which he blamed on the misreading of a headline. It happens.