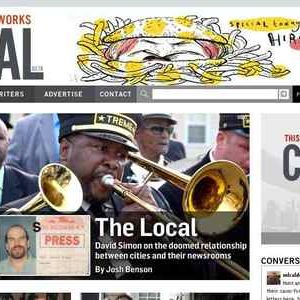 "We don't have any doubt they have the wherewithal to do Politico New York if that's what they wanted to do," said Capital co-founder Josh Benson, whose scrappy local website was recently acquired by Politico owner Robert Allbritton. "They're doing this because we're on the ground here and precisely because we know New York," he told Daily Intelligencer.
Benson and his fellow editor Tom McGeveran have city cachet from their time at the New York Observer but split from new owner Jared Kushner to go the start-up route. Still, past experiences with a boss not as firmly entrenched in the New York City media and politics world doesn't leave them with reservations about pairing with the D.C. behemoth, said Benson. "It's a fantastically helpful association to have, but there's a reason they came in and invested in Capital New York rather than just starting Politico here. The intention isn't to create a clone, except that this thing has to be a success."
The path to Politico-style power and influence includes adding some two dozen reporters and editors to Capital's existing staff of seven, and ultimately charging for a premium product, Allbritton told Bloomberg. Politico co-founder Jim VandeHei, who will oversee Capital's business side, floated the idea of a $1,000 annual subscription, five times more than the New York Times. "I anticipate the skepticism and appreciate it," he said of the figure. "If you're producing something that has to be read by a media executive or a politician, they're going to pay for it — that's the big challenge."
"Their track record in this regard gives us cause for great confidence," said Benson. But how will Capital, in Politico parlance, "win the morning" from New York?
"The goal, in those terms, is to be a primary source of news for people who care about that stuff," said Benson, referring to New York politics and media coverage. "We've done a pretty good job at punching above our weight. But it's another thing to be a primary news source and a less discretionary object."
Albany, though, does not exactly have the same allure as Washington, D.C., something Capital, which appeals to wonks and Über-insiders, is well aware of. "The primary aim will not be to achieve sexiness," said Benson. "It's not primarily a traffic play to go to Albany. It's clearly the case that if the end is eyeballs then there are other ways to spend resources. But it's important, and there's absolutely a demand for it."
Filling that perceived void starts now, with a rash of new hires coming within a few weeks. "These guys wanna move fast," said Benson. "That's great as far as we're concerned. This is the fun part, right?"