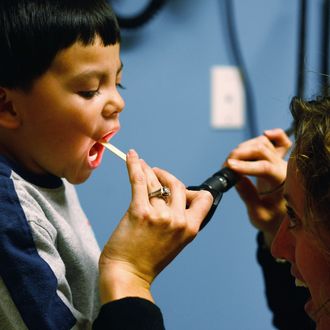 Photo: John Moore/2009 Getty Images
For years, Obamacare has been something of an abstraction in the public discourse. We've heard about it constantly, but only as something vague and vast looming in the future. Today that changes with the beginning of open enrollment for Obamacare health-insurance plans. This sign-up period lasts for two and a half months, with coverage kicking in on January 1. Government shutdown notwithstanding, Obamacare will almost certainly take effect on schedule, because the Affordable Care Act is paid for with non-discretionary funding (i.e., the kind that won't be affected by the shutdown).
So ignore the current drama in Washington and bone up on everything you need to know about America's new health-care regime. For starters, keep in mind that the insurance won't be called "Obamacare" — each state has its own exchange and its own name for the program. There are even some substantial differences in terms of cost and availability within a state. For some help in figuring out the basics for residents of New York City, we chatted with Elisabeth Benjamin at Community Service Society, one of many local nonprofits paid by the federal government to help people navigate their way through the sea of new options. She helped us put together this handy Obamacare FAQ sheet:
Who's eligible for Obamacare?
Just about everybody under 65 (after that, it's all about Medicare). But, of course, the programs will be of interest mostly to people who are not currently insured. The only subgroup not eligible for Obamacare are undocumented immigrants. But they can still use the state web portal — known officially as the New York State of Health Marketplace — to access a number of other health-care programs.
What if I already have insurance through work or school?
You don't need to do anything — though it's probably worth paying attention anyway in case you ever need to buy coverage in the future. The exception is if you are currently paying more than 9.5 percent of your income for coverage, in which case it's worth pricing out Obamacare plans, as you will likely be eligible for financial assistance.
What if I'm already paying for individual insurance (through, say, the Freelancers Union)?
Again, you should probably check out the Health Marketplace before you renew your current policy. While New Yorkers have long been able to purchase individual insurance regardless of age or health status, many of the plans are expensive. With this new wave of options hitting the market, you might find something more affordable — whether or not you qualify for a government subsidy (more about that below).
Okay, sounds like Obamacare might be right for me — but I'd like some bureaucratic hand-holding. Can I get some help from an actual human being?
Call the Health Marketplace at 1-855-355-5777. Or go to an "in-person assistor" — that is, a real live person, highly knowledgeable, who will sit with you and help you identify the best health-care option. In New York City, there will be twenty locations for these helpers (find one here). Alternatively, you can contact a nonprofit group like Community Service Society (212-254-8900, enroll@cssny.org) for in-person or telephonic assistance.
How good are the policies — and what do they cost?
As with pretty much everything else in life, what you get depends on how much you are willing to spend. There are four primary tiers of coverage under Obamacare, each represented by a precious metal. A platinum plan is, of course, more blinged out and comprehensive than a bronze plan. (There is also a bare-bones fifth plan — more about that below.) The rack price for a given plan doesn't take subsidies into account — so remember that your out-of-pocket cost might ultimately be much lower than the figures cited. In all cases, family plans are 2.85 times the cost of individual plans. Here are the numbers for New York City:
Platinum: These top-tier policies will pay 90 percent or more of all your health-care costs. In New York City, Platinum plans range from around $450 per month (for Metro Plus or HHC ) to $913 (for United). You will have no deductible and your maximum out-of-pocket health costs each year will be capped at $2,000.
Gold: Insurance will pay around 80 percent of your health costs, with a $600 deductible and maximum annual out-of-pocket expense of $4,000. The plans cost between $395 and $750.
Silver: Ranging between $360 and $635, these plans will cover 70 percent of costs with a $2,000 deductible and a $5500 maximum out of pocket. If you make less than $28,700 annually, you may qualify for subsidies on your out-of-pocket expenses.
Bronze: These will cover 60 percent of costs, with a $3,000 deductible and $6350 maximum out of pocket. In New York City, a Bronze plan costs as little as $308 per month.
Catastrophic: People up to age 30 — and certain others who get an exemption — can buy a catastrophic plan offering 50 percent coverage for $183/month (and up).
That still sounds too expensive. What about those subsidies?
Yes, indeed. Subsidies are a huge part of the appeal of Obamacare, and many people who seek coverage will qualify. The Marketplace will assess your eligibility based on income, where you live, and immigration status. You probably won't have to provide income documentation unless the data you input is not reasonably compatible with the government wage and tax data bases. You can decide if you want to get your subsidy every month off your premium or take it as a big check at tax time.
They're not worried about fraud?
Not really — if you claim too much of a subsidy, you'll owe Uncle Sam the difference when you file your tax returns.
How much would my subsidy be?
First of all, with Medicaid eligibility expansion in New York State, if you make below about $15,000, you will now be eligible for Medicaid. (The current cutoff is about $11,500.) So that's a total free ride on health care, and New York State Medicaid is very good. As an individual, if you make between that and up to $46,000, you're eligible for subsidies. (Again, the figures are higher if you're looking for a family policy.) To find out just how much you'll pay, based on your income, check out this handy-dandy subsidy calculator. 
Even if you don't qualify for subsidies, the Obamacare plans are still likely to be meaningfully cheaper than anything you could have gotten on the open market yesterday.
Any other perks under Obamacare?
Yes, for one thing, under the Affordable Care Act, all plans everywhere have to cover mental health equal with physical health. That means if your plan covers 80 percent of your physical health bills, they have to cover 80 percent of your mental health bills as well. In addition, you can no longer be barred from a plan owing to a preexisting condition, age, or other factors.
What if I'm uninsured and have no desire to change that state of affairs?
You'll list that on your 2014 tax return. The fee for not signing up for coverage is $95 per adult and $47.50 per child (up to $285 per family), or one percent of your income, whichever is higher. In 2015, that fee jumps to $325 per adult and $162.50 per child, or 2 percent of your income. While some holdouts may opt for the fee, experts predict most people will eventually sign up for insurance.