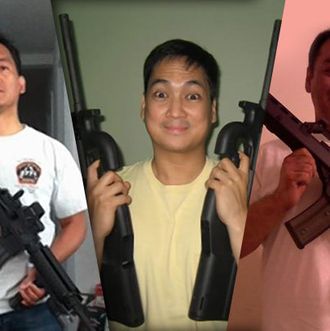 From left to right: Rex Maralit (the NYPD officer), Ariel Maralit, and Wilfredo Maralit.
Photo: DOJ Handout
The NYPD officer accused of using his law-enforcement credentials to help illegally export guns to the Philippines allegedly worked with his two brothers, one a customs agent in Los Angeles and the other who received the arms in country. Federal prosecutors say the police officer, Rex Maralit, worked in 1 Police Plaza and along with his brother Wilfredo Maralit bought guns online in the United States, using his credentials to solicit discounts.
Then the two allegedly shipped the "high-powered assault rifles, sniper rifles, pistols and firearm accessories" to a third brother in the Philippines, Ariel Maralit, who prosecutors say identified customers and sold the weapons. Philippines police are still looking for Ariel Maralit, but the other two brothers are in custody here and face five years in prison and fines of $250,000 if convicted.