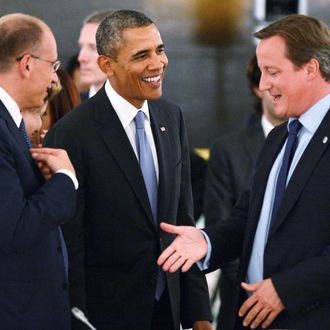 "Pretty please?"
Photo: Handout/Getty Images
The obvious subtext of President Obama's plan to speak to the American people about Syria on Tuesday ahead of a planned congressional vote next week — and his refusal to say what happens if he's shot down — is that things are not going well. If yesterday's rough vote estimates were bad, today's are worse: "If the House voted today on a resolution to attack Syria, President Barack Obama would lose — and lose big," Politico reports.
"It's conceivable at the end of the day I don't persuade a majority of the American people that it's the right thing to do," said Obama from Russia today. "And then each member of Congress is going to have to decide." He added, "I trust my constituents want me to offer my best judgment. That's why they elected me. That's why they re-elected me."
But vote counts from HuffPo/ThinkProgress and ABC News have both hit the 217 votes-against threshold that will mark a defeat. The Washington Post's version comes up a few votes short of final but is still skewing way pessimistic for the president.
The New York Times calls the forecasted failure for the White House "a potential turning point that could effectively define his foreign policy for his final three years in office." And the likelihood that Obama would strike Syria without congressional approval is "almost unthinkable," the report says:
As a practical matter, it would leave him more isolated than ever and seemingly in defiance of the public's will at home. As a political matter, it would almost surely set off an effort in the House to impeach him, which even if it went nowhere could be distracting and draining.
Obama's trip abroad for the G20 summit did not seem to soothe the uneasiness of his foreign counterparts either. According to Vladimir Putin, countries opposing an attack include China, India, Indonesia, Argentina, Brazil, Italy, Germany, and South Africa. On Obama's side are France, Canada, Turkey, and Saudi Arabia, "all nations that were on his side when he arrived here on Thursday."
"I think this vote determines the future of his foreign policy regardless of whether it's a yes vote or a no vote," said former Obama defense official Rosa Brooks. "If he ekes out a yes vote, he's beholden to the Republicans," she said, and "if he gets a no vote and stands down on Syria, he's permanently weakened and will indeed probably be more inward looking."