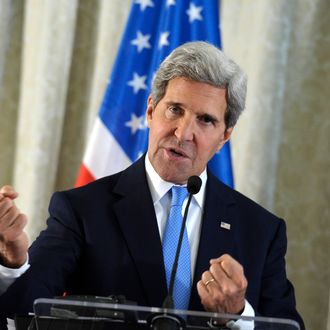 John Kerry at the U.S. Embassy in Paris on Sunday.
Photo: SUSAN WALSH/AFP/Getty Images
As President Obama prepares to sell military action against Syria at home this week, John Kerry is still overseas, trying to drum up support abroad. After revealing over the weekend that the number of countries supporting military action has reached "double digits," without naming them, on Sunday the secretary of State announced that Saudi Arabia and Qatar, two countries that have been supplying arms to Syria's rebels, are in favor of a U.S. attack. "They have supported the strike, and they support taking action. They believe that it's very important to do that," Kerry said of Saudi Arabia. It's unclear if they would participate, and the only other countries publicly backing U.S. military intervention are Turkey and France.
Unsurprisingly, a larger group of nations is up for condemning Assad's actions, but won't commit to military intervention. According to the Washington Post, when the G-20 countries failed to reach an agreement on Syria, the U.S. circulated a statement that blames Assad for the "horrific" chemical attack on August 21, and calls vaguely for "strong international response." Eleven G-20 countries – Australia, Canada, France, Italy, Japan, South Korea, Saudi Arabia, Spain, Turkey, Britain, and Germany – signed on. The EU expressed similar sentiments on Saturday, and Kerry said other Arab nations intend to sign the G-20 statement, and will "make their own announcements in the next 24 hours."
Kerry hopes to form an even larger coalition before returning to the U.S. on Monday, both to provide diplomatic cover should the U.S. strike Syria, and to help convince U.S. lawmakers to authorize the military action. The latest survey of senators and representatives, conducted by USA Today, has 44 lawmakers supporting the use of force in Syria and 149 opposed. The remaining 338 lawmakers were undecided. That's a bit better for Obama than the reports last week that a majority in the House is already likely to oppose, but the numbers still aren't particularly encouraging.