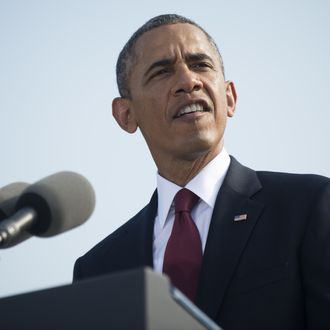 Photo: Pool/2013 Getty Images
Now that the U.S. and Russia have reached an agreement on how to dismantle Bashar al-Assad's chemical weapons arsenal, there's been a pause in the Syria crisis – though the New York Times points out that there's still plenty that could go wrong, from Syria failing to meet its deadlines to hiding chemical stocks from international inspectors. The Wall Street Journal is using the (possibly brief) respite to examine how the "the U.S. stumbled into an international crisis and then stumbled out of it" via more than two dozen interviews with top Washington officials, and their counterparts abroad. The inside story shows that the events of the last 24 days were just as dizzying as they appeared to the public. 
The Cliff's Notes version of the inevitable Bob Woodward book reveals that the situation often changed with little warning. On Friday, Aug. 30, when President Obama went on a a 45-minute evening walk with Chief of Staff Denis McDonough and revealed he was thinking about holding a vote in Congress, the five Navy destroyers in the Mediterranean were expecting to receive orders to fire missiles into Syria in ten to eleven hours. Pentagon officials were confident enough in that timeline that they had already conducted a mock news conference to prepare for questions about the strikes.
When Obama decided to seek authorization, over the objections of most of his senior staff, Congressional leaders only found out about an hour before the president announced the plan from the Rose Garden, and the White House didn't ask if they thought their colleagues would support it. Rep. Henry Waxman found out from a TV news report while using a treadmill in an L.A. gym. When a friend asked what was going on, he said, "He's going to Congress, and I'm sweating." Mitch McConnell was so caught off guard that he didn't have time to come up with a clever quip (or bother to make one up later). The Journal reports that when Obama called the Senate minority leader's Louisville, Kentucky home to deliver the news, he was making a turkey sandwich.
Just minutes after accidentally declaring a strike could be avoided if Syria would immediately give up its chemical weapons, Secretary of State John Kerry got a call from Russian foreign minister Sergey Lavrov, who said "I'd like to talk to you about your initiative." Kerry replied, "I don't know what you're talking about." According to the Journal, he was joking, so perhaps he was slightly less befuddled than reports suggested.
As for President Obama, he's already announced that he doesn't care if people say his response to Syria's use of chemical weapons was sloppy. "Folks here in Washington like to grade on style," Obama he told George Stephanopoulos. "Had we rolled out something that was very smooth and disciplined and linear they would have graded it well, even if it was a disastrous policy. We know that, 'cause that's exactly how they graded the Iraq War until it ended up blowing [up] in our face."