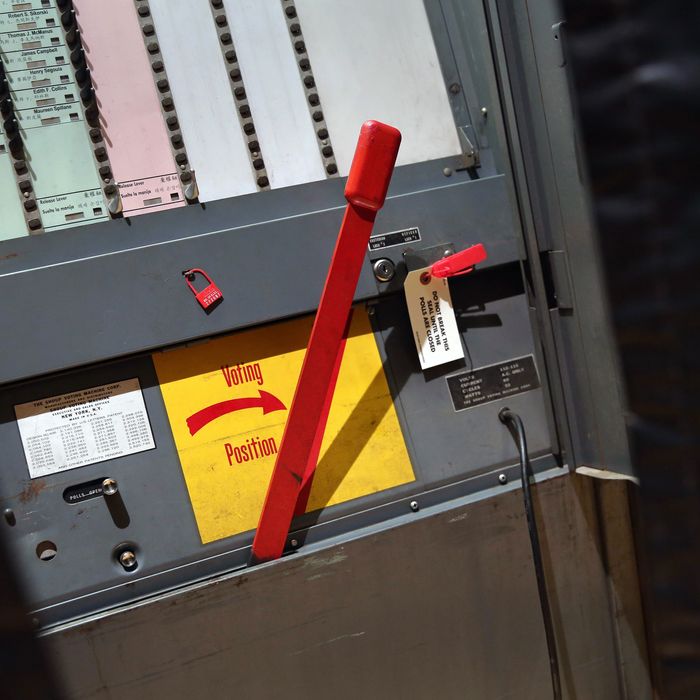 Photo: John Moore/Getty Images2013 Getty Images
The antique lever devices New Yorkers pulled for democracy today — because the computerized machines would not be ready again for a potential runoff — turned out to be faulty in many instances, surprising no one. "Turnout appeared light, but the city's complaint line received several thousand voting-related calls," the AP reports. "Many reported jams and breakdowns in the antiquated lever machines, which were hauled out of retirement to replace much-maligned electronic devices."
It wasn't just the machines, and it wasn't just the plebians who were affected:
Republican mayoral candidate Joe Lhota presumably wrote his own name when his machine broke at his Brooklyn polling place. Democrat Anthony Weiner, whose mayoral campaign was dogged by a persistent sexting scandal, also encountered a problem when poll workers were briefly unable to find his signature.
Bill de Blasio, because everything is going right for him lately, was fine, save his staggering height.
A voter hotline run by the New York Public Interest Research Group counted some 200 complaint calls by noon, and tallied "18 broken machines in Brooklyn, 10 in Manhattan, seven in Queens, three in The Bronx and only one on Staten Island" as of 2 p.m., DNAinfo reports.
At least the Board of Elections was around to help: