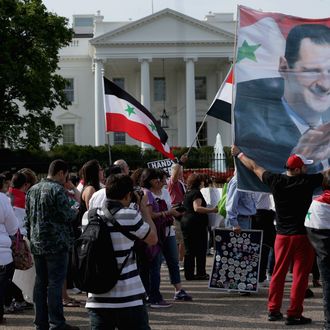 A protest against attacking Syria outside the White House on September 9, 2013.
Photo: Chip Somodevilla/2013 Getty Images
Back in June, Bill Clinton said he thought President Obama should do more to help the Syrian rebels, musing that in the long run he'd look like a "total wuss" and a "fool," if he failed to take action just because it was unpopular with the American people. "If you refuse to act and you cause a calamity, the one thing you cannot say when all the eggs have been broken, is that, 'Oh my God, two years ago there was a poll that said 80 percent of you were against it.'" Clinton explained. His remarks are weirdly prescient, if a bit too high. According to a new Wall Street Journal/NBC News survey, only 33 percent of Americans think Congress should vote to allow the president to attack Syria.
Rather than giving the Obama administration time to make its case, the poll found that support for intervention has dropped in the two weeks since the president implied that the bombing of Syria was imminent. At the end of August, an NBC News poll found Americans split in half on the issue of limited airstrikes in Syria. The new survey of 1,000 adults, which was conducted between Thursday and Sunday, found only 44 percent support a limited attack.
There were similar findings in a New York Times/CBS News poll out today. In both surveys nearly six in ten Americans said they disapprove of how Obama has been handling the situation, and less than a third said he'd laid out a clear and convincing case for attacking Syria. 75 percent of those surveyed by the Times/CBS said they believe that Assad's regime used chemical weapons, so it isn't that Americans doubt Obama's evidence – they just don't think the U.S. should get involved.
President Obama acknowledged in his half-dozen interviews on Monday that getting Americans to back another strike in the Middle East may be impossible, but he said he'd still try to make his case in his address Tuesday night. With these numbers, even a soaring, Sorkin-penned Josiah Bartlett speech probably wouldn't do it.