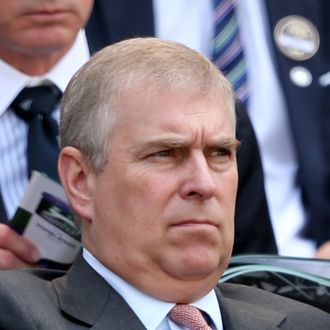 Prince Andrew (in case you didn't recognize him.)
Photo: Clive Brunskill/2013 Getty Images
On Monday, Buckingham Palace had its biggest security breach in 30 years — a man scaled a 12-foot fence and meandered into the state rooms before he was noticed — and it seems the security guards there were still on high alert on Wednesday. So, when two officers spotted a man they didn't recognize wandering the palace garden, they rushed over to demand identification and ordered him to "put your hands up and get on the ground." While that's generally good, if forceful, practice when it comes to palace guarding, the man they confronted turned out be Queen Elizabeth's other son, Prince Andrew, the Duke of York.
A palace source told the Sunday Express, "It's fair to say that to describe the Duke as unhappy and the two officers as highly embarrassed is the biggest understatement of the century." She added, "There is a high turnover of the police on duty at the Palace, but you'd think anyone would know what Prince Andrew looks like." At least anyone who works at the palace.
Prince Andrew was reportedly "livid" after having his leisurely stroll interrupted, and we imagine he admonished the security guards as only a true royal can. But, for his official statement, the Duke went with, "The police have a difficult job to do balancing security for the royal family and deterring intruders, and sometimes they get it wrong. I am grateful for their apology and look forward to a safe walk in the garden in the future." So, we're going to assume no one lost their heads over the incident.