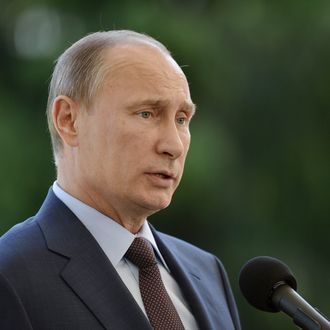 Photo: KIMMO MANTYLA/AFP/Getty Images
Some vague threats are to be expected in any conversation with Vladimir Putin, but he attempted to sound like a reasonable guy – definitely not the type to steal your Super Bowl ring after noting it can be used as a deadly weapon – in an interview ahead of Wednesday's G-20 summit in St. Petersburg. On the topic of a possible U.S. strike against Syria, Putin told the AP and Russian state TV, "We have our ideas about what we will do and how we will do it in case the situation develops toward the use of force or otherwise." But Putin also tried to show a softer side. For instance, while you might have heard about Russia's disturbing new anti-LGBT laws, Putin says he definitely isn't oppressing gays, and has no plans to toss athletes in jail during the Winter Olympics in Sochi. Phew!
"We have absolutely normal relations," Putin said of Russia's government and its gay community. "I don't see anything out of the ordinary here." As evidence, he pointed out that Russians are really into Tchaikovsky, though he was gay. "Truth be told, we don't love him because of that, but he was a great musician and we all love his music," said the president.
As for relations with President Obama, who canceled their meeting ahead of the G20 over the Snowden saga, Putin said they both want to work together, though "we are human," and "sometimes one of us gets vexed." "President Obama hasn't been elected by the American people in order to be pleasant to Russia," he said. "And your humble servant hasn't been elected by the people of Russia to be pleasant to someone either."
Despite the anticipated tough talk, Putin said he and Obama may still be able to find common ground on Syria. He explained Russia "doesn't exclude" supporting a U.N. resolution to punish Syria, but finds the idea of Assad's regime launching a chemical weapons attack "absolutely absurd." He added that like many in the U.S., he's still waiting to see the evidence – especially following Iraq. "All these arguments [in 2003] turned out to be untenable, but they were used to launch a military action, which many in the U.S. called a mistake. Did we forget about that?" Putin said.