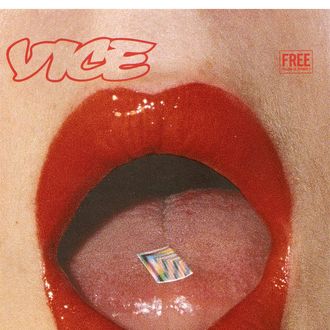 Rare like a three-legged unicorn, one of those actually funny parody Twitter accounts popped up today to send up the insanely valuable hip-kid bible Vice. The premise is simple: @Vice_Is_Hip ("We're cool because you're shit") is churning out absurdist, extreme headlines that ring so close to true of the third-world foraging, drug-guzzling multimedia company that it's hard to tell the difference. Truth is stranger than fiction and all that. Seriously, see if you can spot the parodies among the self-parodying.
1. The Search for Deso Dogg, the German Rapper Turned Jihadi Poster
2. I Went to a Gay Rodeo, and Now I Want to Bone Cowboys
3. Meet the Tokyo Teens Having Surgery to Look Like Robert Mugabe
4. Meet the Guys Who Want to Turn Tony Danza Into a Dadaist Meme
5. Meet the 89-Year-Old Canadian Man Convinced Jack Osbourne Is The Messiah
6. We Hung Out with Jewish Bodybuilders in Damascus
7. We Went to a GWAR Zombie Prom
8. Talking Bombs, Jihad and Miley Cyrus with the Homeless in Houston
9. Meet the Ex-Murder with the Real-Life Lego Crackhouse in Chile
10. The Strongest Dwarf in New Jersey
11. We Went to a Foam Party in Magaluf
12. The Reluctant Roma Cannibals of Romania
13. Cowboy Heroin Addicts and the New Rise of Communism on the Streets of Texas
14. Meet the Latvian High Hefner Who Wants to Make Haringey the New Orlando
15. Why Can You Go to Prison for Making Scat Porn?
16. Meet the Girls Who Are Terrorizing Juggalos with Their Perfect Asses
17. We're Killing Dogs with Phil Collins' Former Bodyguard in Vienna
18. Why Is There a Photo of R-Patz in the Cuban Revolution Museum?
19. Meet the Woman Who's on a Quest to Have Sex with 100,000 Men
20. Meet the Turkish Eminem Who Married His Dad
Answers: 1. Real 2. Real  3. Fake 4. Real 5. Fake 6. Fake 7. Real 8. Fake 9. Fake 10. Real 11. Real 12. Real 13. Fake 14. Fake 15. Real 16. Real 17. Fake 18. Real 19. Real 20. Fake