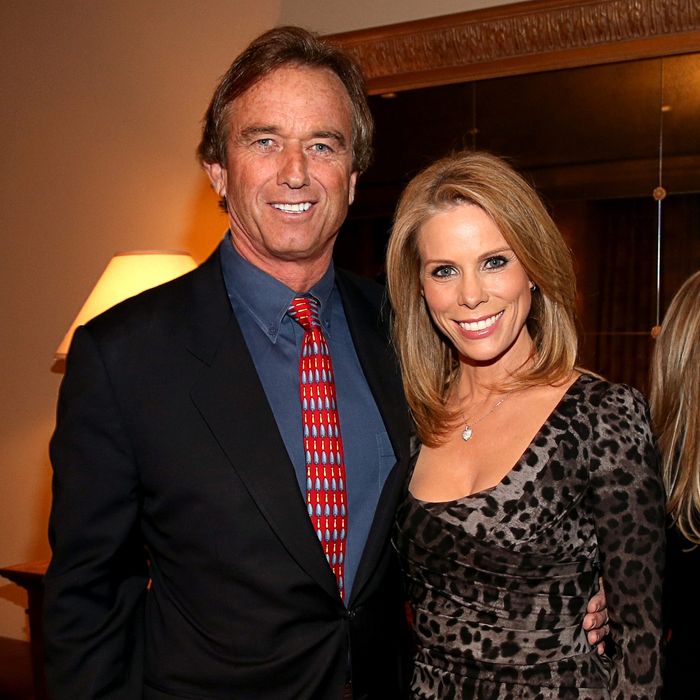 Kennedy with his girlfriend, Cheryl from
Curb
.
Photo: Christopher Polk/Getty Images
The NSA still has nothing on the New York Post, which used all of its demon tabloid powers to somehow acquire a journal that Robert F. Kennedy Jr. allegedly kept in 2001. Most titillating, it includes a log of the women he had sex with behind the back of his wife, Mary Richardson Kennedy, who killed herself last year in the midst of the couple's divorce and reportedly found the journal at some point:
A copy of the 398 pages, reviewed by The Post, details RFK Jr.'s daily activities, speeches, political activism and the lives of his six children in the year 2001. But they also record the names of women — with numbers from 1 to 10 next to each entry.

The codes corresponded to sexual acts, with 10 meaning intercourse, Mary told a confidant. There are 37 women named in the ledger, 16 of whom get 10s.

On Nov. 13, 2001, RFK Jr. records a triple play. The separate encounters — coded 10, 3 and 2 — occur the same day he attended a black-tie fund-raiser at the Waldorf-Astoria for Christopher Reeve's charity, where he sat next to the paralyzed "Superman" star, magician David Blaine and comic Richard Belzer.
One of the most enlightening aspects of the journal is the language Kennedy uses to describe his sexual encounters. Kennedy didn't have sexual relations numbering one through ten with dozens of ladies because he wanted to. No, he did it because he had no choice. 
"I narrowly escaped being mugged by a double team of [two women]. It was tempting but I prayed and God gave me the strength to say no," he writes on Feb. 6. A few days later, on Valentine's Day, he gives his pregnant wife orchids, he notes.

On May 21, he writes about hosting dinner for Leonardo DiCaprio, driving the actor to the city and then meeting someone else in Manhattan. He notes he "got mugged on my way home," recording a 10 with the name of a woman next to it.

"I've got to do better," he adds.
Was there really anything he could have done better, though? The experts advise that when you're being mugged, never resist and always hand over your penis.