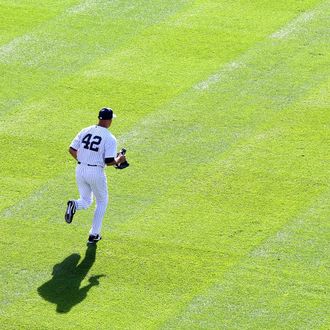 Mariano Rivera, on Sunday.
Photo: Elsa/Getty Images
I've never looked forward to a baseball game less than I'm looking forward to tonight's Yankees game. In a few hours, like many other Yankees fans, I'm going to watch my favorite baseball player, Mariano Rivera, in person for the last time. I've had a lot of time to think about this day: Like most people, I was afraid Rivera's career might have ended on the warning track in Kansas City last year. And in the hours before Rivera announced he'd return from that injury to play again, I thought about how unfortunate it would be if Yankees didn't have the opportunity to soak in the last time we each saw him pitch. We shouldn't have to go through old ticket stubs to figure out the last time we saw him in person. We should be able to savor it while it was happening. Tonight, for me and some 50,000 other people, it's going to happen. But it's going to be very sad.
Tonight isn't a chance to focus on Rivera's numbers, or his place in the pantheon of Yankee greats, or his importance to the Joe Torre dynasty teams relative to some of his teammates, or even how important a one-inning closer really is to a baseball team in this era of bullpen specialization. Tonight's not about establishing context for Rivera's career; that's already been done. Tonight's about getting our last in-person glimpse of an extraordinary pitcher with an extraordinary pitch.
Tonight's game feels a little like the last game at old Yankee Stadium. Like this year's team, which was mathematically eliminated from playoff contention last night, the 2008 Yankees weren't going to the playoffs. And on that night, in September of 2008, there was a buzz in the stadium, but different from the buzz of an important playoff game. It had nothing to do with the score and everything to do with fans in attendance feeling nostalgic, all for the same place but for different moments. And it was a chance to say good-bye to a place we'd all been a hundred times before, and would never be again.
But in other ways, tonight is very different. With the closing of the old Yankee Stadium came the anticipation of the opening of the new stadium, and there was a certain excitement to that, no matter how imperfect that new ballpark would inevitably be. But there's nothing like that tonight. The post-Rivera era is not something anyone's necessarily looking forward to, no matter how capable David Robertson (or whoever the closer is next year) might be.
We've known for months that these would be Rivera's final days as a Yankee, but it's really just hit me within the last couple of weeks. Watching him jog in from the bullpen, "Enter Sandman" playing over the stadium loudspeakers, has become so familiar, so reassuring. It's become a part of the experience of going to a Yankees game, so routine that you sometimes didn't really notice it as something special. "Star-Spangled Banner" and roll call at the start, "Enter Sandman" and "Theme From New York, New York" at the end. Over and over and over. But this month, you took it all when Rivera entered the game, because you didn't know how many more times you'd see it.
Now we know. Unless Joe Girardi is heartless, Rivera will surely get a chance to pitch one last time at Yankee Stadium tonight, regardless of the score. One last entrance. One last ovation. If Sunday afternoon was about saying thanks to Rivera, tonight's about saying good-bye. It's going to be great. It's going to be awful.