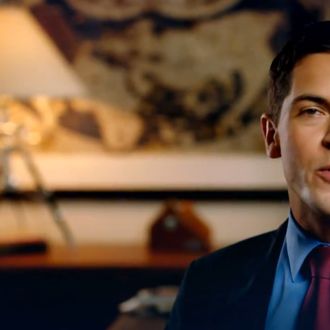 The plan has been obvious for some time: Young liberal about town Sean Eldridge will seek New York's nineteenth congressional district seat against popular incumbent Republican Chris Gibson. Eldridge, the husband of Facebook co-founder and The New Republic owner Chris Hughes, has worked for marriage equality, campaign-finance reform, and started the small business investment fund Hudson River Ventures, but he's new to the region and only 27. "He's going to do all kinds of things in politics, but I don't think there's any rush," Hughes told New York just last December. But it is happening now.
Eldridge made his official announcement last night on Twitter with a three-minute ad that attempts to get across one message: I am not a carpetbagger. The clip forgoes mentioning his most effective work with Freedom to Marry, his supportive husband, and his connections to the New York political elite (Andrew Cuomo, Chuck Schumer), instead stressing the local stuff while shots of bucolic farm-life play.
Eldridge and Hughes, meanwhile, live in a "sleek and sexy" $2 million home in the district, despite owning a $5 million estate in nearby Garrison, where Eldridge previously considered running for Congress. The couple also owns a $5 million apartment in Soho. "One thing is clear, this race will test the hypothesis of whether Congressional seats can be bought," said a spokesperson for Representative Gibson in a statement.
The New York Times took a skeptical look at the power couple's plans in "Young, Rich and Relocating Yet Again in Hunt for Political Office." (Our own Chris Smith said Eldridge's run will be tough, but not impossible.)
"I love the Hudson Valley," Eldridge stressed in his announcement. "It's where I'm building my family, my home, and my business." It will be up to voters to decide whether that foundation is strong enough.