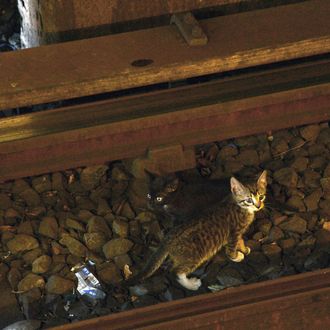 Arthur, in darker times.
Photo: Marc A. Hermann
There's new evidence in the biggest controversy to grip New York's mayoral race since everyone got tired of making Weiner jokes:  Month-old kittens Arthur and August have found a temporary home in Brooklyn, and they're considerably cuter than when they were frolicking near the third rail. They're being cared for by 25-year-old Steven Liu, who regularly fosters kittens. Arthur and August have their own room complete with toys, cardboard box towers to play in, and an apology note that reads, "Sorry New York, we forgot to transfer at Prospect Park." Liu has a blog with updates on the life the kittens were nearly deprived of, but to be fair Joe Lhota didn't know there would be adorable photos when he bet that New Yorkers value prompt public transportation over the Internet's favorite animal.