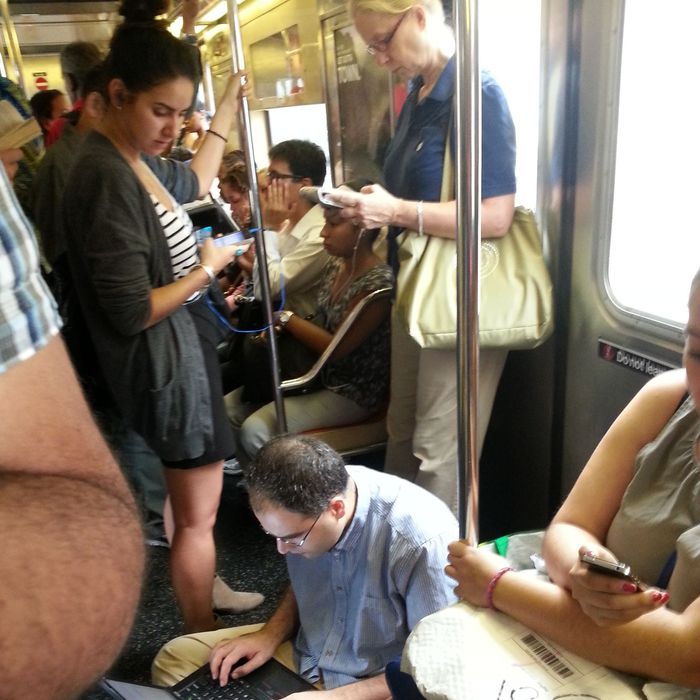 Earlier today, a Redditor posted this photo of a balding, middle-aged man typing away on the floor of a moderately crowded 1 train. The caption: "Being a workaholic is no excuse for being an asshole."
But the man in question — or at least someone purporting to be him (it's pretty convincing) — soon joined the discussion to defend himself. He's wrapping up his PhD thesis, has a new job and a new baby, barely sleeps, barely has any time for anything, and needs to get work done on the subway or he'll explode into a million pieces. He usually tries to get a seat — despite his otherwise immaculate vocabulary and grammar, Laptop Man repeatedly uses the word sit instead of seat, which was kind of odd — but was "delayed at daycare this morning" and "did not feel that the train was so packed" as to make his encampment on the floor a nuisance to others. 
Does Laptop Man's frenzied existence excuse his decision to take up a gratuitous amount of floor space for the purpose of unavoidable multitasking? Or is he "an asshole" who deserves to be stepped on by passersby as he types his thesis? Or is the whole thing just a big heaping scoop of who cares?