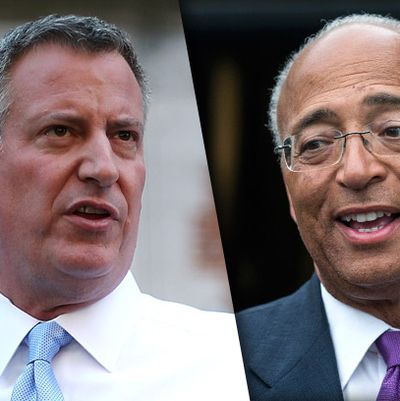 Unity.
Photo: Getty Images
Nearly a week after primary day, Andrew Cuomo helped to end the Democratic race for mayor this morning at an event with Bill de Blasio and Bill Thompson on the steps of City Hall. Surrounded by party dignitaries, Bill Thompson conceded the race to Bill de Blasio and endorsed the former rival, but he also called it a "disgrace" that the slow tallying of votes means nobody even knows if there should be a runoff or not. "This electoral process has to be improved," Thompson declared.
For his part, Bill de Blasio proclaimed that "there's no man of greater integrity" than Thompson and gratefully accepted his endorsement. Finally, Governor Cuomo praised Thompson for his selflessness and endorsed De Blasio for mayor. Cuomo also made some nice generic remarks about New York, such as, "We are not afraid of differences among us. We don't turn differences away. We welcome differences."
This post has been updated throughout.