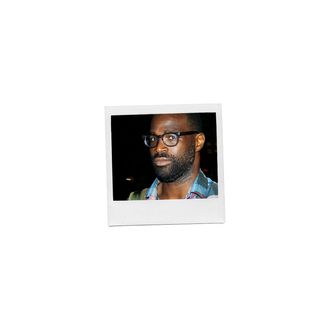 Photo: PatrickMcMullan.com
Name: Tunde Adebimpe
Age: 38
Neighborhood: Greenpoint
Occupation: Actor, animator, musician (TV on the Radio). His project Higgins Waterproof Black Magic Band releases their debut album on October 1, and you can catch them Sunday nights in October at their residency at Union Pool. Listen to the first single "The Blast, the Bloom" here.
Who's your favorite New Yorker, living or dead, real or fictional?
James Baldwin, because he was doing the right thing in the time when that was a really dangerous thing to do.
What's the best meal you've eaten in New York?
Pretty recently was ravioli and half a chicken at Roman's in Fort Greene. (I didn't eat it all myself; I shared.) We also had Russian baby kale — well, we were later informed that it was Russian baby kale because everyone was sort of staring at it wondering what it was. It seemed a little bit like the iceberg lettuce of kale. 
In one sentence, what do you actually do all day in your job?
I wake up worried — oh, this is not going to be one sentence — come to my studio and either start work on a song or get a bunch of drawings together, check on drawings for a film project, or act. Generally. All of them involve a self-imposed stomachache that I have to get rid of by 12:30 in the afternoon.
What was your first job in New York?
I was a ticket-taker and usher at Film Forum. It was actually great because I got to see any film I wanted to for free both at Film Forum and the Angelika, so it was like having a free pass to all of the rare film screenings in New York. It was at a time in New York where I could work there four days a week and that was all I had to do to pay rent, which is unbelievable to me right now.
What's the last thing you saw on Broadway?
The Lion King. Because my father-in-law was in town and he really, really wanted to go.
Do you give money to panhandlers?
I do if I have money on me that I can give. It depends, but I definitely do. There's a really aggressive dude on the L who'll come up to you and be like "Can you spare a dollar?" And if I couldn't he'll be like "Yeah. I'm sorry, too." Just totally against the maxim; he's just the choosiest, choosiest beggar.
What's your drink?
I like ginger beer, actually. There's a place on 14th Street that sells a kind I like — you get the nose burn, it's so gingery. But the best thing about the place is its glass window painting. It's a meat pie and it's got a face, and it's wearing kind of like a Rastafarian tam. I think he has dreadlocks, but I'm not positive.
How often do you prepare your own meals?
When I'm home? Probably twice or three times a week. Every so often my wife and I make pizzas with whatever's left in the fridge. Once we ended up with Swiss cheese–and-olive pizza. That was not good at all.
What's your favorite medication?
Probably walking. The outcome of everything else is too unpredictable. There have been times when I'm like, "Oh, man, I feel terrible, maybe I'll smoke some weed," or do whatever. And so much of the time what I realize is that I was actually fine before I did any of that. Like, "No, no. I was okay! And now I can't go outside."
What's hanging above your sofa?
Nothing. I've been meaning to put up a drawing by my friend Brian Chippendale, but I haven't gotten around to it.
How much is too much to spend on a haircut?
I would say $30. That sounds terrible, but I usually go to Astor Place, and it's like $20 with a tip. So $30 is too much.
When's bedtime?
Close to never, usually around two or three.
Which do you prefer, the old Times Square or the new Times Square?
I don't know, they're both really frightening in different ways. The interesting thing is to watch how the mascots change. I was up there last week, and I saw two kind of pill-shaped things and I was like "What are you? Twinkies?" And I heard a little kid go "Oh, Despicable Me!" Not my demographic.
What do you think of Donald Trump?
Oh, man. Just in his demeanor and constant squint, he looks like he has bowel issues. He looks just like "I gotta drop this off, but I also gotta keep it in."
What do you hate most about living in New York?
Hate is a strong word, but I'm definitely uncomfortable that I get used to neighborhoods and then they change. And it's not like it happens overnight, but you always think that it's further off than it is.
Who is your mortal enemy?
Mortality, actually. Don't like it. I've got stuff to do.
When's the last time you drove a car?
Legally was probably eight years ago. Illegally was maybe six years ago. We were on tour and somebody had to move the van, and nobody with a driver's license was around, so I did it.
How has the Wall Street crash affected you?
I think it broadened my view of what people are willing to do when there's an enormously unfair situation happening. It brought back protest culture. It's not that I didn't expect it, I just didn't expect it to come out of that exactly. That part was incredibly positive.
Times, Post, or Daily News?
Well, I say between those three I'd say Times for general, slightly unfiltered information, and Vladimir Putin's op-eds. And the Post and Daily News for front-cover graphic design and titles. I will always give the Post credit for when Ike Turner died and the headline was "Ike Beats Tina to Death." Whoever did that, I can just imagine the day it came out everyone in the office just sat and stared at them in awe.
Where do you go to be alone?
My studio.
What makes someone a New Yorker?
I guess being here for a long enough time that when you leave and someone's nice to you, you kind of don't trust them.