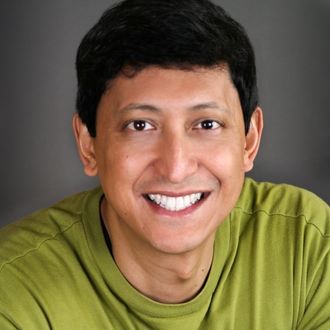 Dan Nainan doesn't want to hear it.
Photo: Courtesy shot
Dan Nainan, if you're not already familiar, is a self-described "100 percent clean" comedian who apparently has something of a temper. Performing at the DC Improv Wednesday night (along with Candy Crowley, Grover Norquist, and Ralph Nader), Nainan reportedly took offense to some less-than-flattering tweets by Newsbeast writer Josh Rogin, and according to Rogin and at least one other witness, settled it in the style of very few Twitter fights: by punching Rogin repeatedly in the face. This ended with police arresting Nainan, at least according to Rogin. In the absence of a comprehensive narrative of the evening (we've reached out to Rogin and Nainan for comment but have yet to hear from either), the tweets tell the tale.
Update: A bit more substantive reporting comes from U.S. News's Washington Whispers, whose writer Nikki Schwab was on hand. Apparently Nainan found Rogin in the audience after his set.
Nainan then approached Rogin, who was sitting at the back of the DC Improv comedy club and punched him.

"Dan Nainan comes over to me and says, 'Are you Josh Rogin,' and I said yes and then he punched me in the jaw, then he pushed me, then he walked away and about 10 seconds later he came over and punched me again," Rogin told Whispers directly after the fight.