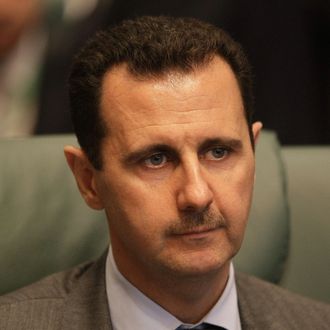 Photo: JOSEPH EID/2010 AFP
After nearly two weeks of negotiations, on Thursday the five permanent members of the U.N. Security Council finally reached an agreement on a resolution that requires Syria to dismantle its chemical weapons program. At the insistence of the U.S. and its Western allies, the resolution is legally binding, stipulating that the Syrian government "shall not develop, produce, acquire, stockpile, retain or transfer" chemical weapons. Samantha Power, the U.S. ambassador to the U.N., said the agreement "makes clear there will be consequences for noncompliance" – though, in a concession to the Russians, it doesn't spell out exactly what will happen if Syria breaks the rules.
The Wall Street Journal reports that the Russians wouldn't go along with any automatic penalties for Syrian noncompliance (or language that specifically blamed Bashar al-Assad's regime for the Aug. 21 attack). Instead, if Syria fails to meet its obligations, the Security Council "will impose measures under Chapter 7 of the U.N. Charter" – the strongest type of Council resolution possible. That could entail economic sanctions or military force, but there's a catch: Taking such actions would require a second Security Council resolution, which Russia would likely veto.
The draft resolution agreed to by the U.S., Russia, China, Britain, and France, was presented to the entire fifteen-member Security Council on Thursday evening, and could see a vote as early as Friday. Assuming it's approved, it will implement a plan to destroy Syria's chemical weapons and related facilities by mid-2014. The Washington Post reports that U.S. and Russian officials have concluded that most of Syria's chemical arsenal consists of "unweaponized" liquid precursor agents, which could be disposed of relatively quickly and are harder to hide. It's believed that all of Syria's chemical weapons could be destroyed in nine months to a year, as long as Syrian authorities and rebels provide international inspectors with unfettered access to any chemical agents they possess. Hopefully, the U.N. won't have to work out what happens if they don't go along with that plan.