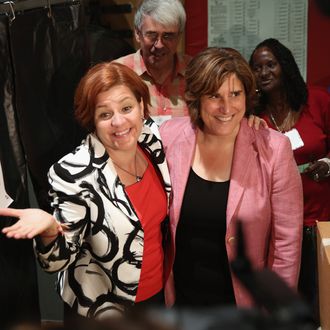 Democratic mayoral candidate Christine Quinn (L) and her wife Kim Catullo embrace after casting their votes in the primary election for New York City mayor on September 10, 2013 in New York City. Quinn, trailing in the polls, is hoping to garner enough votes to compete in a runoff election to be the Democratic candidate.
Photo: John Moore/Getty Images
More unscientific exit poll data: Bill de Blasio is the most well-liked mayoral candidate among Democratic primary voters, followed by Bill Thompson, and both men garnered favorability ratings in the sixties. However, a "slim majority" of voters said they have an unfavorable opinion of Christine Quinn, which is never a great recipe for electoral success.