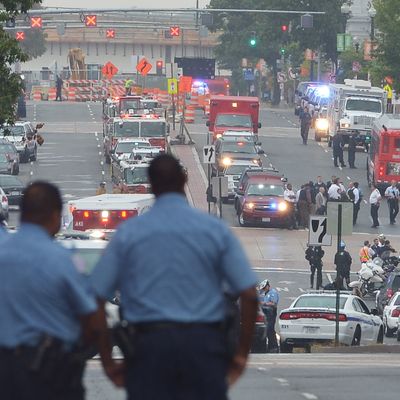 The Washington Navy Yard in D.C. reported an "active shooter" at its Naval Sea Systems Command headquarters on Monday morning, just after 8 a.m. The death toll has climbed in the hours since, with Mayor Vincent Gray confirming this afternoon that at least thirteen people are dead, including the shooter, and several others injured. About 3,000 people work in the building, where a "shelter in place" order was issued.
According to police and some reports, there were multiple shooters involved, one of whom was taken "down," but details remain sketchy. Officials have identified the deceased shooter as Aaron Alexis, a contractor from Texas.

Authorities are on the scene, and the Navy is tweeting live dispatches. We'll update as more information becomes available.
Update, 11:45 a.m.: The AP reports that the shooter (a shooter?) is dead, while "Two other officials have said they are looking into the possibility of a second shooter at the Navy Yard."
Update, 12:15 p.m.: The D.C. police chief has confirmed that one shooter is dead, with two others possibly, although not definitely, at large.
Update, 1:00 p.m.: President Obama spoke about the shooting before a briefing today marking the anniversary of the financial crisis, calling the attack a "cowardly act."
"We still don't know all the facts, but we do know that several people have been shot and some have been killed," said Obama. "So we are confronting another mass shooting, and today it happened on a military installation in our nation's capital." Of the victims, he said, "They are patriots. They know the dangers of serving abroad. But today they faced the unimaginable violence that they wouldn't expect here at home."
Update, 2:15 p.m.: With the number of fatalities rising to twelve, authorities say they are still on the lookout for two additional people who may be involved. One is a white male between 40 and 50 years old, wearing tan and a beret. The second is a black male around the same age wearing olive, with gray sideburns.
Update, 2:50 p.m.: D.C. police: "The white male in the tan outfit has been identified and is not a suspect or person of interest."

Update, 3:58 p.m.: The suspected shooter has been identified as Aaron Alexis, a civilian contrator from Fort Worth, Texas. Read more here.

This post has been updated throughout.