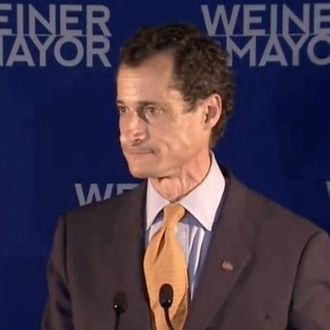 "We had the best ideas," said Anthony Weiner. "Sadly, I was an imperfect messenger." After winning only five percent of the vote with nearly 80 percent of precincts reporting, the candidate conceded defeat around 10:30 p.m. in a speech to his supporters. Weiner's remarks provided an unintentional retrospective of some of his most notorious campaign gaffes. In a reference to that time she called an intern a "slutbag," Weiner praised spokeswoman Barbara Morgan for "mastering new levels in salty language." He punctuated an inside joke about the West Indian Day parade with dance-hall–style gunshot sounds – "bo, bo, bo" – but wisely skipped the accent. For the penis pun fans, he declared, "we didn't just do the easy stuff, we did the hard stuff."
And Weiner failed to thank his wife, who in turn did not appear by his side – or anywhere at the event. But what really made tonight a perfect, poetic end to Weiner's sex scandal encore was the way arrived at his primary night party: running through the back door of a McDonald's to get away from former sexting pal Sydney Leathers. 
Business Insider reports that Leathers was poised to confront Weiner outside of Connolly's Pub in Midtown, with a group of reporters waiting to document every humiliating moment of their first real-life meeting. After Morgan unsuccessfully attempted to disperse the press by claiming Weiner was already inside, the campaign resorted to Plan B: Dash through the adjacent McDonald's and use the bar's back entrance. The frenzy was captured on Vine:
As well as Leathers's attempt to trail him.
Incredibly, being chased through a McDonald's by his 23-year-old sexting partner wasn't the least classy moment of Weiner's night: He flipped off a reporter on his way out.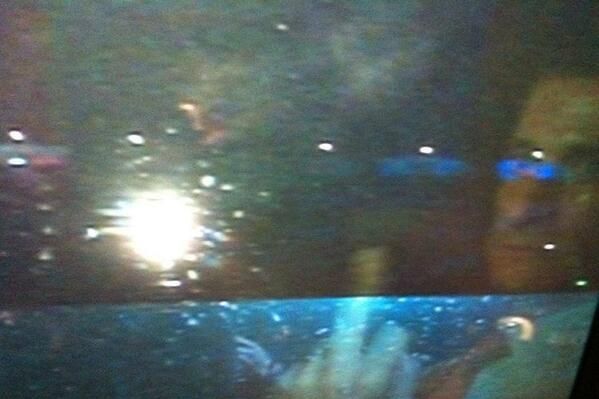 He will be missed (until he shows up on some cable show in about a week).