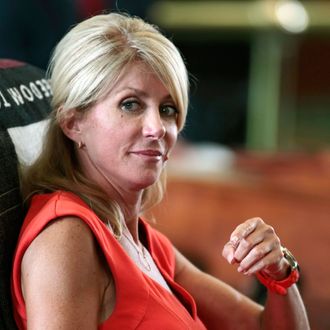 Photo: Erich Schlegel/Getty Images2013 Getty Images
Wendy Davis's camp still won't say officially that she plans to announce her candidacy for Texas governor, but that's almost certainly what's happening. The state senator who gained fame by filibustering a restrictive new abortion bill tweeted on Thursday that she had "something big" to announce, but declined to say what it was. Democratic sources had no problem filling in the blanks, telling news outlets from the Associated Press to the Austin American-Statesmen to Politico that she was getting ready to announce her candidacy. Later on Thursday, Davis, who has been fund-raising like crazy after her filibuster, again tweeted that she had a big announcement, this time offering a time and place (her former high school, Oct. 3, 3 p.m.). And still, her aides refused to confirm it.
"She's made a decision and she looks forward to making her decision public on Oct. 3," spokesman Hector Nieto told The American-Statesman. So for one more week, this is still officially a mystery. But it's not. Wendy Davis is running for governor of Texas, where the AP reminds us a Democrat hasn't won statewide office in twenty years. She's picked up $1.2 million in the six weeks after her filibuster, but her soon-to-be opponent, Texas Attorney General Greg Abbott, has already raised $25 million. So she's still got a lot of ground to make up.