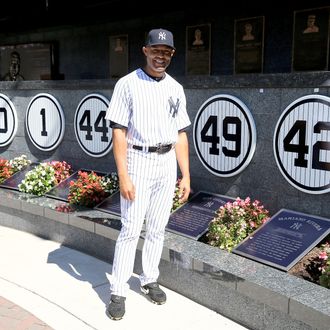 Mariano Rivera, in Monument Park yesterday.
Photo: Elsa/2013 Getty Images
In a ceremony prior to yesterday's Yankees game, the team retired the number of Mariano Rivera, displaying his No. 42 next to Ron Guidry's No. 49 and making him the first Yankee to receive such an honor while still a member of the active roster. He's also the first member of the Joe Torre–era Yankees to be honored in Monument Park, but he won't be the last. So who has a chance to join him?
NUMBER WILL DEFINITELY BE RETIRED
Derek Jeter, No. 2
Assuming 2014 will be Jeter's last season, the only question is whether the Yankees will honor him next September, as they did with Rivera, or wait until the following season, which is traditionally how such things are handled. Jeter will probably get a monument one day, too, though that wouldn't likely happen until after he's passed away.
NUMBER WILL ALMOST-DEFINITELY BE RETIRED
Joe Torre, No. 6
Torre will likely be enshrined in Cooperstown one day, possibly sooner rather than later. And that will be almost entirely a result of his time in the Bronx: He won 1,173 games with the Yankees, the second most in franchise history, and his .605 winning percentage is third best in franchise history among managers with more than 500 games. He has four World Series rings and oversaw the most recent dynasty for a franchise that loves talking about dynasties. Casey Stengel (fewer wins but a better winning percentage) has his number retired. The only hiccup could be Torre's relationship to the organization: He left on poor terms, but he's since been invited back for various events. Assuming that relationship isn't too sour, he'll likely be honored within a few years, particularly if he's inducted into the Hall.
NUMBER WILL POSSIBLY BE RETIRED
Jorge Posada, No. 20
Posada may be the litmus test for assessing the Torre-era Yankees: Will number retirement be limited to just legendary Hall of Famers like Jeter or Rivera, or will it include guys like Posada who played here for a long time, made some All-Star teams, and helped form the nucleus of a consistently excellent team? Posada himself is a borderline Hall of Famer; he was the third-best player of his era at the position, though he wasn't particularly well rounded. Keep in mind that the Yankees don't set their number-retirement bar as high as most other teams: Ron Guidry was a very good player but hardly a Hall of Famer, and his number was retired n 2003. Roger Maris, an Almost Hall of Famer who spent just six years with the Yankees, had his number retired eventually as well. (Granted, he won two MVPs and broke baseball's most famous single-season record while in New York.)
Andy Pettitte, No. 46
Pettitte, another Core Four member, is in a similar position as Posada. Numbers-wise, Pettitte's another borderline Hall of Fame case, though Posada stacks up better against his peers. But Pettitte's got a career WAR of 60.5, good for 56th on the all-time list for pitchers and ahead of a number of Hall of Famers, including Whitey Ford. (And though some of that was a result of his years in Houston, he spent the majority of his career in New York and is most closely associated with the Yankees.) Pettitte's compiled numbers that put him among the best pitchers in franchise history: He's the franchise leader in strikeouts, he's third in wins (which the Yankees undoubtedly care about for this type of thing, even if they shouldn't), and because he pitched in an era of expanded playoffs, he's among the all-time leaders in postseason wins (first) and strikeouts (second). His PED admission hasn't damaged his reputation too badly, so it's hard to imagine he'd be disqualified from consideration for number retirement as a result.
Bernie Williams, No. 51
One would imagine that if the Yankees were going to retire Williams's number, they'd probably have done it already: He hasn't played since 2006. But perhaps they're waiting to retire the numbers of more prominent players like Jeter and Rivera first. Williams is fifth in franchise history in offensive WAR (behind Ruth, Mantle, Gehrig, Jeter, and DiMaggio), sixth in games played (behind Jeter, Mantle, Gehrig, Berra, and Ruth), fifth in hits (behind Jeter, Gehrig, Ruth, and Mantle), seventh in home runs (behind Ruth, Mantle, Gehrig, DiMaggio, Berra, and A-Rod). In other words, he's in good company. His numbers weren't good enough for the Hall of Fame, but for number retirement he's only being compared to other players in franchise history, and his numbers stack up pretty well. He's behind the elite tier of players, but ahead of other players whose numbers have been retired. (He never won an MVP like Don Mattingly, but he did win a batting title.) And from a less statistical point of view, he was the first homegrown star player to emerge in the post-Steinbrenner-suspension era — the one in which the core of their dynasty teams was formed. Worth noting: The Yankees still haven't issued his No. 51 since he stopped playing, which isn't the case for the likes of Paul O'Neill and Tino Martinez.
NUMBER DEFINITELY WOULD HAVE BEEN RETIRED THANKS TO A PAIR OF MVP AWARDS AND SOME FANTASTIC STATS BUT PROBABLY WON'T BE BECAUSE THE PLAYER APPEARS DESTINED TO FINISH HIS YANKEES CAREER ON HORRIBLE TERMS BECAUSE OF A SECOND ROUND OF PERFORMANCE-ENHANCING-DRUG ALLEGATIONS AND A HUGE CONTRACT THAT THE TEAM REGRETS GIVING HIM

This category is just A-Rod, really.