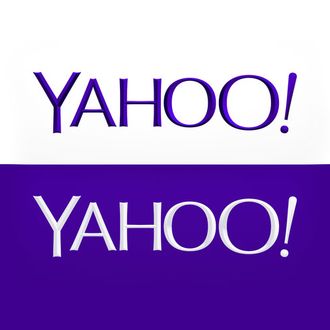 While we're waiting on the revolutionary new tech ideas, Yahoo has unveiled a fresh logo that's not much different from its old logo. But don't tell that to CEO Marissa Mayer, who detailed the process in painfully earnest and overlong detail on her Tumblr today. "On a personal level, I love brands, logos, color, design, and, most of all, Adobe Illustrator. I think it's one of the most incredible software packages ever made. I'm not a pro, but I know enough to be dangerous :)," she wrote. "So, one weekend this summer, I rolled up my sleeves and dove into the trenches with our logo design team."
"We knew we wanted a logo that reflected Yahoo — whimsical, yet sophisticated. Modern and fresh, with a nod to our history," Mayer explained. "Having a human touch, personal. Proud." All we really see is purple and that invincible exclamation point.
"Our last move was to tilt the exclamation point by 9 degrees, just to add a bit of whimsy," said Mayer, really stressing the quirk factor. It's fine, we guess!