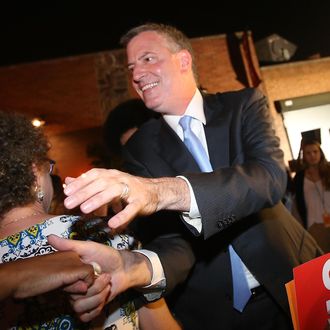 Photo: Mario Tama/2013 Getty Images
Tuesday's primary night was one of many revelations, mostly about who people were voting for mayor. But it also revealed how the participants in this once-vast mayoral field handle a party, be it victory or defeat. At seven such bashes across the city, seven candidates hosted their supporters, staff, and media, and their entertaining styles varied as widely as their singing (oh, and political positions). Bill Thompson, for example, had an open bar, while Joe Lhota charged a whopping $8 for domestic beer and $10 for wine. Below, a glance at the main candidates' parties, and the refreshment situations therein.
Democrats

Bill de Blasio: At a block party at the Bell House, De Blasio reportedly had Brooklyn-centric food stalls including the Brooklyn Lobster Pound.
Drinks: Prices unclear but Bell House has lots of beers.
John Liu: Supporters reportedly got a buffet-style supper at Grand Harmony Restaurant, on Mott Street.
Drinks: Free cans of Budweiser.
Bill Thompson: Hosting a gathering at the Eventi Hotel in Chelsea, reportedly with no food.
Drinks: Open bar.
Christine Quinn: She set up at the Dream Downtown hotel, where there was reportedly a cash bar and no food.
Drinks: Heineken for $5.
Anthony Weiner: Partied with a cameo by Sydney Leathers at Connolly's Pub and Restaurant on 47th Street, Manhattan.
Drinks: Nobody noticed with all the Sydney Leathers, but the beer was reportedly flowing.
Republicans
John Catsimatidis: Reportedly serving Mediterranean food at the Roosevelt Hotel.
Drinks: Open bar, with "top-shelf liquor"
Joe Lhota: Even though he's winning this election, his party at the New York Hilton Midtown had the most buzz-killing refreshments.
Drinks: "$8 domestic beer, $9 imports, $10 wine and $13 mixed drinks."