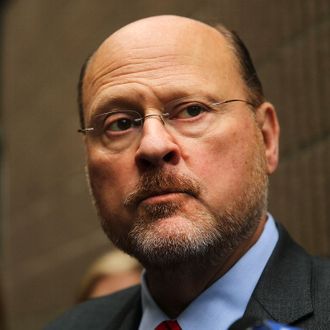 Photo: Spencer Platt Images/Getty
Over the weekend, The Wall Street Journal noted that during the last two decades, New York City has become less white, and less likely to elect a Republican. Thus, the New York Times' front-page story on Joe Lhota's youth as a government nerd who discovered his love for conservatism early in life isn't likely to give him a much-needed jump in the polls. However, it does suggest that Lhota's beef with Bill de Blasio probably goes deeper than the fact that he's standing between him and Gracie Mansion. Since de Blasio's past as a Sandinista-supporting young leftist was revealed, Lhota has repeatedly complained that de Blasio's "class warfare strategy in New York City is directly out of the Marxist playbook." While one might assume that like most Republicans, Lhota just isn't a huge fan of communism, there's more to it.
The two men had very different experiences in the seventies, as evidenced by photos from their college years. While de Blasio is bearded and allegedly high in his NYU yearbook photo, the Times unearthed a shot of a bespectacled Lhota in a preppy Georgetown University cap and polo shirt ensemble, holding three cups Bob Benson–style. It's possible the cups contain beer, not coffee, as Lhota successfully ran for the student senate by complaining that beer and pizza were too expensive in the campus pub — or as he said of the pub, "It has obviously lost all sense of fiscal control."
While Lhota supports gay rights, abortion, and the legalization of marijuana, and at one point described himself as libertarian, he's been a conservative all his life. Barry Goldwater is described as his boyhood hero, and in college he attended a summer bootcamp founded by William F. Buckley Jr. and other conservatives. While he didn't pursue a career in politics until he joined the Giuliani administration, at Georgetown Lhota "eschewed protests in favor of nights in the gallery of the United States Senate."
Lhota's biggest political influence was George J. Viksnins, a Georgetown professor he befriended. Viksnins, a Latvian refugee, "preached an early version of trickle-down economics" and was passionately opposed to socialism – particularly because his father was murdered by a Communist regime. "I still am a virulent anti-communist," Lhota told the Times. "It is a bad system, an immoral system, and one that takes away the rights of people and the rights of individuals. And everywhere it's gone, it's failed." And suddenly Lhota's insistence that de Blasio's "philosophies are dangerous," and his horror over his illicit honeymoon to Cuba seem more genuine.