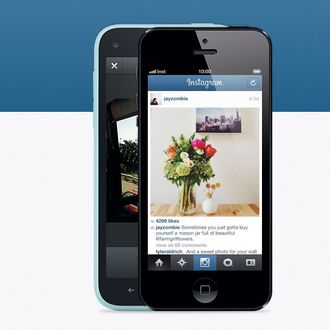 This bouquet brought to you by 1-800-FLOWERS.
Photo: Instagram
It was a good bet that when Facebook shelled out $1 billion for Instagram, part of its rationale for doing so was that Instagram was one of those rarest of Internet properties — a pristine, ad-free (and revenue-free) oasis, with millions of devoted users, where it would be relatively easy to plop down ads for David's Bridal next to all those summer wedding photos and make an easy killing.
And lo and behold, The Wall Street Journal reports that those ads are making their way to your Instagram feed.
The Journal introduces us to Emily White, a 35-year-old former Google employee who has been heading up Instagram's ad project. "Her challenge is to figure out how to integrate marketing without jeopardizing Instagram's cool factor," the paper writes.
White has been meeting with reps from Ford, Williams-Sonoma, Coca-Cola, and others, hoping to part them from their money. Those companies will likely be persuaded to pay Instagram for easier and more complete access to its monster user base, and Instagram will in turn become a commercialized platform, where ads for jeans and coffee chains sit next to street-style candids and photos of nights on the town.
And you? Well, you'll just have to wonder whether your friend's dog really likes Purina kibble, or whether he's cut a savvy product-placement deal.