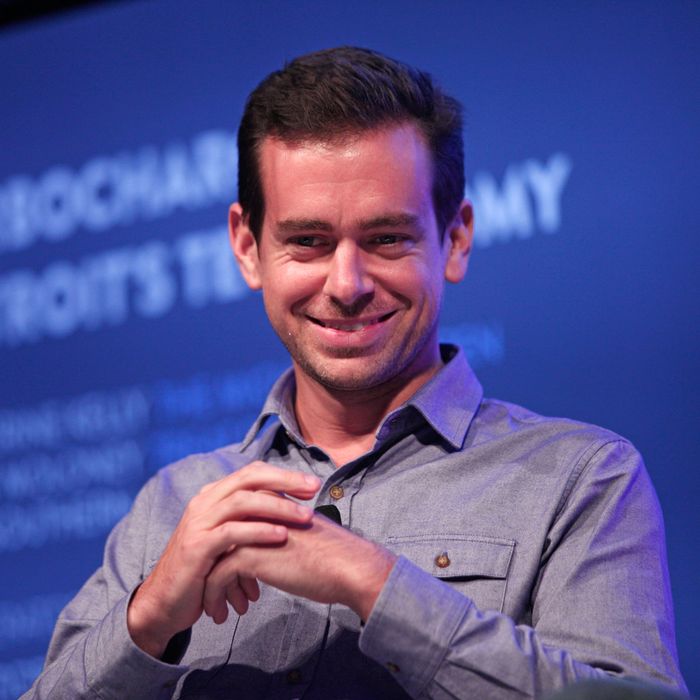 On the plus side, he has great shirts.
Photo: Bill Pugliano/Getty Images
Nick Bilton, the New York Times tech columnist, has a monster excerpt in this week's Times Magazine from his new book, Hatching Twitter, about the founding of the 140-character social network. The excerpt — which details the infighting between Twitter co-founders Ev Williams, Biz Stone, Jack Dorsey, and Noah Glass — doesn't really have any heroes. Everyone (except maybe Biz Stone and CEO Dick Costolo) comes off as calculating, backstab-y, and, well, young.
But Jack Dorsey — Twitter's Dior-wearing, Square-founding, mayor-of–New York–aspiring board chairman — gets the roughest drag over the coals. Bilton digs deep inside Twitter's creation myth and finds that Dorsey's time at the company has been … misunderstood. Here are five facts from Bilton's excerpt that probably have Dorsey buried under his covers this morning.
1. He got fired as Twitter CEO for doing too much yoga and skirt-making.
Dorsey was never a conventional CEO: He began as a nose-ring-wearing hacker and had to be taught the finer points of corporate management as Twitter grew. But at one point, his quirks (he "habitually left around 6 p.m. for drawing classes, hot yoga sessions and a course at a local fashion school," where he "wanted to learn to make an A-line skirt and, eventually, jeans," according to Bilton) were too much for co-founder Ev Williams to take. "You can either be a dressmaker or the C.E.O. of Twitter," Williams reportedly told Dorsey. "But you can't be both."
2. He almost got mercy-hired by Facebook.
Eventually, Dorsey got replaced as CEO by Williams and was given a ceremonial board seat as a consolation prize. In a huff, he called Twitter's main rival — Mark Zuckerberg — and nearly went to work for Facebook. Zuckerberg reportedly wanted to hire Dorsey — presumably for the symbolism it would create — but he "didn't have a specific role in mind" for the ousted Dorsey.

3. He wildly inflated his role at Twitter.
Bilton details the process by which Dorsey stole the spotlight from his co-founders and became the person the general public associated with Twitter. This process often involved making wild, inflated claims about his role in Twitter's creation, which were often inconsistent. Bilton writes:
Dorsey's story evolved over the years. He would tell Vanity Fair that the idea for Twitter went back to 1984, when he was only 8 years old. A '60 Minutes" segment reported that Dorsey founded Twitter because he "was fascinated by trains and maps" and how cities function. Later, he would explain that he first presented the idea, fully realized, on a playground in South Park.

4. He screwed over his best friend.
Dorsey and co-founder Noah Glass, who developed Twitter's basic concept together, were once "inseparable," Bilton writes. But Dorsey eventually wanted to kick Glass out of the company, perhaps because he felt threatened. So he concocted a scheme that involved convincing Williams to force Glass out, while pretending he'd had nothing to do with it. After Glass got the boot, Bilton writes, Dorsey played dumb. "At one point, as they stood at the bar to order another round of drinks, Glass confided his day's ordeal. Dorsey acted dumbfounded and blamed Williams." Now, as Twitter prepares to go public, Glass "stands to make about as much as Dorsey's secretary at Square" from the IPO.

5. He's a big fan of Jack Dorsey.
Most of all, Bilton (whose version of events is only one of many, I should add) makes Dorsey out to be a preening narcissist who saw early on the potential of Twitter to catapult him to fame. Sometimes this involved going on TV on the company's behalf; other times it manifested itself in corporate memos: "When Williams asked Dorsey to send a companywide e-mail setting Twitter's goals, his first draft began with the subject line '3 things I want for Twitter (Goals),' each goal beginning with an off-putting 'I.'"
In the end, Bilton gives the last word to an anonymous former Twitter employee, who says: "The greatest product Jack Dorsey ever made was Jack Dorsey."