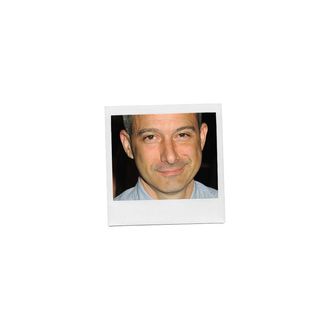 Photo: Jennifer Graylock/Getty Images
Name: Adam "Ad-Rock" Horovitz
Age: 46
Neighborhood: I'm sure it'll have a new name by the time this gets read.
Occupation: Musician; bass player for Bridget Everett & the Tender Moments, whose debut album, Pound It, is now out. Co-writer of Everett's upcoming show Rock Bottom, which you can catch at Joe's Pub on October 30 and November 1 and 2. 
Who's your favorite New Yorker, living or dead, real or fictional?
It's a tie between Vinny the Chin and Bella Abzug.
What's the best meal you've eaten in New York?
Rigatoni Pitti at Bar Pitti and birthday dinners at Mama Leone's.
In one sentence, what do you actually do all day in your job?
I really don't do shit but watch judge shows and eat pizza.
What was your first job in New York?
I ran a fake bird scam with crazy Mark in the diamond district.
What's the last thing you saw on Broadway?
I saw a guy in a Spongebob costume curse at tourists outside Toys"R"Us.
Do you give money to panhandlers?
Yes, I do, and you make being financially desperate sound so cinematic.
What's your drink?
Soda club (at least five pumps) with a splash of cranberry juice.
How often do you prepare your own meals?
By prepare … you mean, take the Chinese food cartons out of the bag, right?
What's your favorite medication?
Modelo Especial.
What's hanging above your sofa?
A sprinkler.
How much is too much to spend on a haircut?
I'm the wrong person to ask. I still think twenty bucks is outrageous.
When's bedtime?
Usually within an hour after dinner. So, like, anywhere between 7 p.m. and 2 a.m.
Which do you prefer, the old Times Square or the new Times Square?
I prefer the old Times Square where you can see Pee-wee's Big Adventure with your mom and smoke pot and it would not be weird that you're doing that.
What do you think of Donald Trump?
Trump is kind of fascinating. I wish he was only seen in black-and-white 'cause he's like a character from the 1890s. (Does that make sense?)
What do you hate most about living in New York?
Drunk mthrfkrs that think my neighborhood is a movie set and that people don't actually live here, so it's okay to scream at 3 a.m. and fun to sing "New York, New York" as loud and drunk as they want to.
That and really loud trucks. I mean … it's 2013 … they can put a fkn man on the moon … but quiet-truck technology isn't here yet?
Who is your mortal enemy?
See above answer.
When's the last time you drove a car?
Recently. I own a car: a minivan. But don't tell anyone 'cause they're gonna ask to borrow it.
How has the Wall Street crash affected you?
Wait, what happened to Wall Street?
Times, Post, or Daily News?
All and none. I watch NY1 every morning and have Pat Kiernan curate my news stories.
Where do you go to be alone?
The roof.
What makes someone a New Yorker?
To me, a New Yorker is someone that has general disdain toward landlords, mass-transit authorities, electric companies, sports-team managers, NYU and its students, and anything new. We also have some kind of back pain.