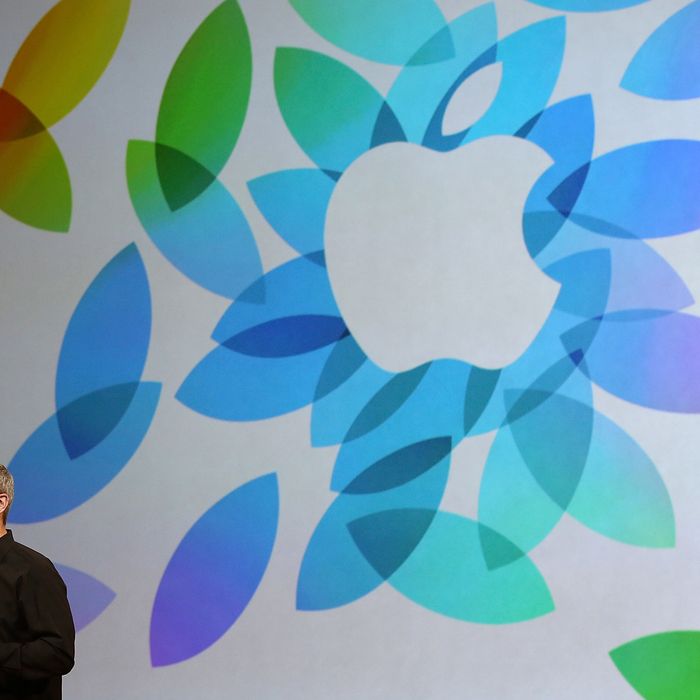 This background was the most interesting part of the Apple event.
Photo: Justin Sullivan/Getty Images
Apple announced a bunch of things today. None of them are very exciting, but here we are anyway.
Thing No. 1: New MacBook Pros. Thing No. 2: A new desktop operating system, OS X Mavericks, that will be available for free download starting today. Thing No. 3: A definitely-not-free new Mac Pro, which looks a little like a high-end trash can and starts at $2,999. (On the plus side, it's assembled in the U.S.)
The only actually cool Thing announced today was the iPad Air, a new, lighter (one pound!) iPad that starts at $499, and is otherwise like every other iPad ever made, except that it is easier to carry and performs better than the old ones. If you never got around to buying the iPad Mini, this one might be worth an upgrade.
Saying that nothing much happened at today's event might sound like I'm being harsh on Apple, but I'm not. Apple is minting money by selling its existing lines of iPhones, iPads, and MacBooks, with tiny changes rolled out once or twice a year. It's under no serious threat from competitors in any area except maybe mobile operating systems. Why wouldn't it continue its strategy of incremental improvement, while it cooks up the next big thing?
The downside of this strategy is that it makes for incredibly boring product announcements – spectacles of heavy-breathing bloggers succumbing to the inevitable letdown. Even the irrationally exuberant world of Apple live blogs was deflated by today's non-event.
In a broader sense, Apple showed today that it's still very much in its transition phase. It needs to do something big to keep the interest of the tech press and maintain its legacy as a category-creating gadget-maker. But it's addicted to the steady pour of profits from its existing lines of products. It could just keep releasing new iPads forever, and still remain one of the world's largest companies. But I doubt the market will tolerate such dull progress. Sooner or later, it's got to swing for the fences.