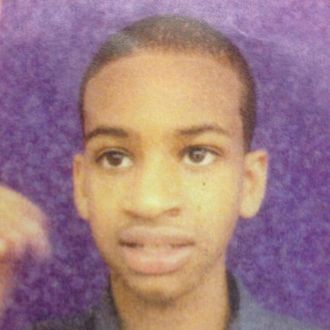 NYPD Commissioner Ray Kelly is not very optimistic about the ongoing search for Avonte Oquendo, the 14-year-old nonverbal autistic boy who walked out of his Long Island City school nearly a month ago, but there's new reason to be hopeful. On Tuesday, a 13-year-old boy took a photo of a young man who resembles the missing teen on a Brooklyn-bound F train near West Fourth Street in Manhattan (see it here). He said he asked the boy, "Hey, are you Avonte?" but he didn't answer. The 13-year-old didn't contact the authorities because he wasn't supposed to be on the train, but someone saw the photo on Facebook and notified police. 
The NYPD is investigating the tip, but Avonte's family says they aren't sure if it's him. Avonte is fascinated with subways and trains, but in the photo the boy's face is partially obscured and he isn't wearing what Avonte was last seen in. "Maybe somebody just put him on the train, just to give him up," his father, Daniel Oquendo, told Newsday. "He was dressed differently, so it's obvious somebody's been taking care of him – if that's him." Avonte's older brother Anthony Fontaine said they've seen a lot of photos that turned out to be dead ends, but this is the closest one. "It's like maybe a 65 percent chance, you know, a possibility. It fits the description a little bit," he said. "We're hoping it's him."
Update: Unfortunately, the boy in the photo is not Avonte. "This person whose photo it was was in the precinct with his parents," a police spokeswoman told the Daily News.