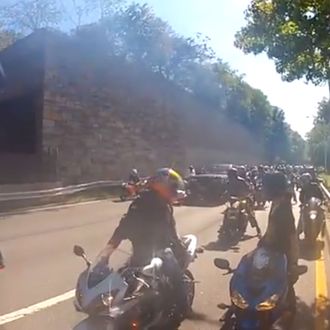 One of the many riders caught on video chasing down a family's car after a highway altercation has been let go after a brief arrest. Allen Edwards, who can be seen punching the SUV's backseat window — a 2-year-old was inside — before the clip suddenly goes dark turned himself in yesterday, but the charges were promptly dropped. "Prematurely charging individuals with low-level crimes does not further the goals of the investigation and could weaken the cases we expect to bring against the perpetrators of serious crimes," said the Manhattan District Attorney's Office. "There is still a tremendous amount of investigation to be done."
Police sources told the New York Post there's "pressure" to make arrests because of the video's viral popularity and thus public scrutiny on the case.
Christopher Cruz, the biker who sparked the incident when he cut off the SUV driver and was rear-ended, still faces charges of reckless driving and unlawful imprisonment. Another rider may have been paralyzed when the panicked diver, Alexian Lien, accelerated through the crowd of surrounding bikers. Lien, who was allegedly dragged from his vehicle and beaten up after the video stops, was not charged.