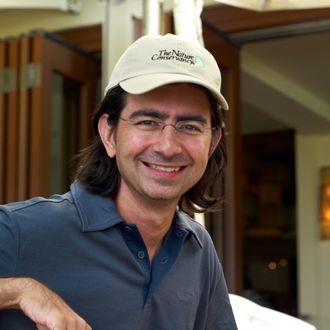 Yesterday, the Guardian journalist Glenn Greenwald, the man behind the Edward Snowden NSA scoops, teased his forthcoming "once-in-a-career dream journalistic opportunity" and "momentous new venture," a "very well-funded, very substantial new media outlet." It sounds expensive. The money, Reuters reports, is coming from eBay founder and philanthropist Pierre Omidyar, a 46-year-old Iranian-American valued at more than $8 billion. He's put his money toward journalism before, and he's a big fan of Greenwald.
Omidyar is the founder and CEO of Honolulu Civil Beat, a news website covering Hawaiian public affairs described as "subscriber-supported journalism!" He previously funded a hyperlocal news organization called Backfence in Washington, D.C., where he grew up, but it no longer exists. Omidyar also founded the Democracy Fund to support "social entrepreneurs working to ensure that our political system is responsive to the public," and through his philanthropic investment firm, Omidyar Network, has donated near $300 million to the likes of Change.org, Couchsurfing, and Creative Commons.
He's also not the first eBay billionaire to look toward media for activism: Jeffrey Skoll, the company's first employee and president, founded Participant Media, the production company behind films like An Inconvenient Truth, Fast Food Nation, and Waiting for Superman.
While Greenwald has described the new project as "a general media outlet and news site," with sports and entertainment coverage, its basis appears to be in politics, especially the government spying and NSA revelations that have made Greenwald a huge name in journalism this year. The Washington Post reports that the site has "sought to hire" Laura Poitras, the documentary filmmaker who connected Snowden with Greenwald, as well as Jeremy Scahill, a national security reporter at The Nation.
Omidyar's Twitter account, where he tweets feverishly about the NSA, security, and surveillance, provides a pretty good look at his interests:
Greenwald appears to have found a very rich ally.