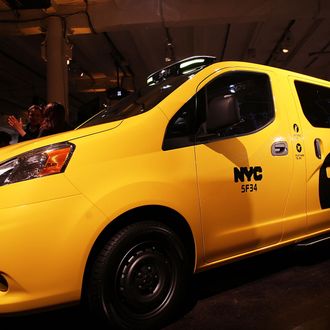 Photo: Spencer Platt/Getty Images2012 Getty Images
Yet again, one of Michael Bloomberg's final acts as mayor — the decision to make all new taxis Nissan NV200s, or the suburbanish "taxi of tomorrow" — has gone the way of the soda ban. A state court judge ruled today that Bloomberg and the Taxi and Limousine Commission acted beyond their authority in requiring cab owners to buy the new vehicle, which was set to become the non-hybrid model of (no) choice on October 28. "Simply stated, the power to contract and compel medallion owners to purchase the Nissan NV200 from Nissan for ten years does not exist in the City Charter," wrote Judge Shlomo Hagler.
The plaintiffs in the lawsuit against the city cited Bloomberg's big loss on giant sugary beverages, noting that the court, in that case, stated "very clearly that administrative agencies are not there for social policy." According to The Wall Street Journal, "Mr. Bloomberg's regulators were doing policy-setting work that should instead be performed by the City Council, Mr. Hagler ruled."
Neither the TLC nor Bloomberg has commented yet on the decision, but we all know how the mayor feels about not getting his way. Between soda, stop-and-frisk, and Bill de Blasio, it seems to be happening a lot lately.
Update: The New York Taxi Workers Alliance has released a statement on the ruling:
"Drivers are majority vehicle purchasers. Taxi of Tomorrow process allows us to use our collective purchasing power to lower the sales costs and have an unprecedented 150,000 miles warranty. Deep pocketed companies bitter that the TLC has finally started enforcing against their lease overcharges against drivers and who profit generously by charging high interest car loans to drivers filed this suit. Drivers and passengers lost today. Special interest won." - Bhairavi Desai, Executive Director