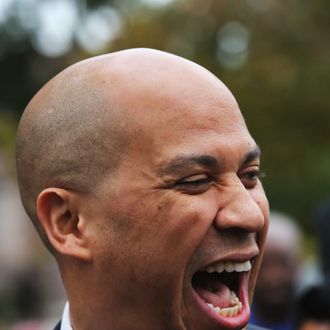 "Yeah, you know me."
Photo: John Moore/Getty Images
Cory Booker, who will almost certainly be elected a New Jersey senator today, spent last night on a "fun run" through Newark with supporters and campaign staff. Things got especially fun when he began bantering with a female jogger wearing an Obama T-shirt and "Team Booker" sweatband. Talking Points Memo's Hunter Walker documented the exchange:
"You got to get a little Booker/Obama," the mayor said. "Obama with a little Booker on top."

Another woman shouted to Booker, "I want to do this every day!"

"I'm down with that," Booker said before quoting the chorus of an old-school hip hop track. "You down with O.P.P.?"
For those who were too shy to ask someone in middle school, here is Urban Dictionary's definition of Naughty by Nature's beloved 1991 initialism. Perhaps Walker misheard, and Booker actually asked the woman if she was down with "O.B.B.," for "Obama" plus "Booker" twice, for good luck. Or maybe the dirty powers of mildly risqué song lyrics expire after two decades. Otherwise, we've got to assume that he's been taking Rick Shaftan's horrible pickup advice after all.