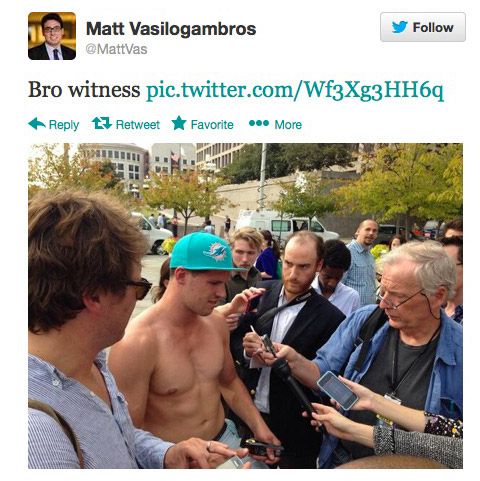 Who is Bro Witness?
The Bro Witness is a person who witnessed the car chase and shooting that took place near the Capitol building this afternoon, and was subsequently swarmed by reporters seeking his brocollection of the events. 
Does Bro Witness have a name?
Yes, his name is Matthew Jacobs.
What do Bro Witness's friends think of him?
They think he's a "fuckhead." 
What did Bro Witness witness?
Bro Witness "says he saw car try to ram through temporary gate at White House," according to reporter Ko Im. Channel 4 news editor Ben de Pear confirms that Bro Witness "says incident started when black sports car tried 2 ram through temp barrier nr white house."
Can Bro Witness ride a bike?
Yes. Reporter Ko Im tweeted that Bro Witness "followed action on bikeshare." Here he is sitting on the bike. 
Where is Bro Witness from?
Unexpectedly, New Zealand. 
Is Bro Witness now New Zealand's No. 1 celebrity?
Yes.  
Did Bro Witness wear his shirt at all today?
No. 
Has Bro Witness ever worn a shirt, period?
No. 
Does Bro Witness actually like the Miami Dolphins, as his hat would seem to indicate?
Probably not.