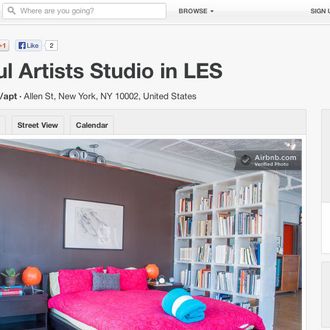 "Isaiah," 35, who rents a $1500-a-month one-bedroom in North Brooklyn and makes about $40,000 a year working in the arts, isn't quite sure how to keep his finances afloat this month. In September, coming off a summer lull in his work, he put his place up on Airbnb, the global apartment-sharing website, for $100 a night. He ended up renting it out for more than half the month, sleeping on friends' couches during that time, and pocketed $2,000.
 
"That money tided me over," he said. "Enough to not have to put groceries on my credit card." But he's stopped doing it. "We're all a little nervous right now," he said of himself and other people he knows who make extra money by hosting on Airbnb.
Earlier this month, the state attorney general's office hit Airbnb with a subpoena to turn over data on 15,000 New Yorkers who rent their places out on the site, in an attempt to collect what the state says is millions in unpaid hotel taxes. The move has shaken many Airbnb hosts like Isaiah who work in low-paying creative or nonprofit careers and depend on that extra income to make rent and stay out of debt. Daily Intelligencer spoke with several New Yorkers who meet that description and, fearing legal repercussions or future fines, have stopped renting out their homes or are considering doing so.
The attorney general appears to be mainly targeting "bad actors," who use Airbnb to run multiple units as mini-hotels, but the move has jolted smaller hosts into an awareness that they are operating in a legal gray zone. Barney — like everyone in this story, he spoke under an assumed name — is a freelancer with a Brooklyn brownstone and three children; he began renting out his garden apartment over Airbnb last year for $125 a night. He's since made about $25,000 that way, allowing him to meet various family expenses. "My business is up and down, so this is a real help to us," he says. Because Barney actually lives where he hosts, he's not breaking the 2010 law against off-site hosts. However, he says, "I should be paying an occupancy tax to the city." (Barney does pay income tax on the earnings, receiving — as do all hosts — a 1099 from Airbnb.)
In North Brooklyn, Susannah, a musician, vacates her $1,800 one-bedroom a few times a year for ten days and rents it out on Airbnb for about $1,500. "It makes being on tour and not working my New York day job totally manageable," she says. "I've had no problems. My landlord never notices. These could just be some friends visiting from out of town." But questions about collecting and paying hotel taxes could dissuade her in the future, she says.
 
Any fines or losses from running afoul of local laws fall on the host, under the terms of Airbnb contracts. A cautionary tale cited by many of the hosts is East Village Airbnber Nigel Warren, who was slapped with over $40,000 in fines from the city for, technically speaking, running an illegal hotel. (The fines were later reversed by an appeals board.) Under a new law that went into effect this year, repeat hotel-tax violations are punishable by a $25,000 fine, up from $2,400.
 
Airbnb, which carries a multibillion-dollar valuation, is fighting the subpoena, describing it is "overbroad," even as the company says it wants to work with the state in rooting out operators who are abusing the system. The website is also lobbying to change a 2010 law that says New Yorkers can't rent out their places for less than 30 days unless they are on the premises.
It's precisely the advantages of working with an established business like Airbnb, which provides more robust security measures for both hosts and guests than a DIY Craigslist transaction, that convinced Pierre to begin renting out his Upper Manhattan co-op after recently switching from a corporate job to an arts job. Pierre, who is in his mid-thirties, says that Airbnb hosting has allowed him to nearly double his work income of about $30,000 last year. Staying with friends while tourists stay in his apartment has been a headache, he says, but it has allowed him to keep up with his monthly $950 maintenance fee and other basic expenses.
 
He worries now that he has given up a different kind of security: "If the attorney general can get the info from Airbnb, I'm screwed."
As part of its PR offensive, Airbnb this week released results of a study it commissioned finding that in a twelve-month period it added $632 million and 4,500 jobs to the city's economy annually — with much of it going to neighborhoods that typically don't see many tourist dollars. In addition, the study noted, Airbnb allows tourists to spend less on lodging and more in locally owned restaurants and other small businesses. (Not surprisingly, the NYC hotel lobby has not taken kindly to Airbnb, saying that the lack of hotel taxes and safety regulations creates an unfair competitive advantage.)
Seth, a visual creative, who rents out a room in his Williamsburg apartment on Airbnb, saw those neighborhood benefits in action when he recently hosted two Canadian visitors. "At first, they were like, 'How close are you to Times Square?,'"  he says. "But they ended up barely leaving Williamsburg. They went to Union Pool, drank PBR, ate tacos. They spent a lot of money in the 'hood."
Putting up tourists — he selects for foreigners, describing Americans as "super-demanding" guests — also allows him to pay his rent. "Honestly, I never could afford it myself," he says.

Every Airbnb host that Daily Intelligencer spoke with expressed the same hope: that the City of New York and the company can quickly agree on a clear set of rules that will protect them from the possibility of fines, evictions or lawsuits in the future.

"I've grown increasingly uncomfortable doing this," says Hal, a visual creative who rents his $3500-a-month apartment in a brownstone Brooklyn neighborhood for $200 a night. "There's been so much heat in the press. And I could only say to my nosy neighbor so many times, 'Oh, they're just an old French couple I happen to be very close to.'"