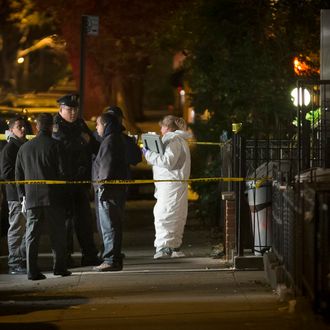 Police officers outside the Sunset Park apartment.
Photo: AP Photo/John Minchillo
A mother and her four children, all under the age of 10, were found stabbed to death on Saturday night in their Sunset Park home, and a 25-year-old relative has been taken into custody. All five of the victims were unconscious and unresponsive when police arrived at the scene, with stab wounds to the upper parts of their bodies, the New York Times reports. Three children – Linda Zhuo, 9, Amy Zhuo, 7, and William Zhou, 1 – were pronounced dead at the scene. Qiao Zhen Li, 37, and Kevin Zhuo, 5, were taken to the hospital, where they were pronounced dead. Police say a meat cleaver was the only weapon used in the attack.
The man in custody, whose name hasn't been released, is a cousin of the children's father. He's unemployed and lived in Chicago before moving in to the family's Brooklyn apartment about a week ago.
Li's sister, who was in the apartment but wasn't attacked, called 911. She and several of Li's family members identified the cousin as the attacker. Neighbor Bob Madden told the AP that he saw a barefoot man being taken from the building by police. "He was staring, he was expressionless," Madden said. Police said statements the cousin made at the scene and during the interrogation connected him to the crime. According to the Post, a police source said he confessed on video and in writing, and showed "no remorse."