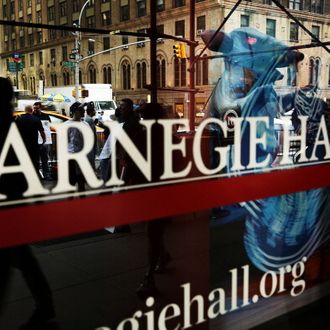 Members of Local 1 International Alliance of Theatrical Stage Employees are reflected in a window as they picket outside of Carnegie Hall after going on strike and forcing the cancellation of Carnegie Hall's opening night gala on October 3, 2013 in New York City. Carnegie Hall claims that the union has demanded jurisdiction over all of Carnegie Hall's newly-created Education Wing which the famous classical music auditorium says would divert funds from its music education programs. It has been reported that some stagehands are making incomes of over $300,000 per year with one topping $436,000 in reportable income and other compensation.
Photo: Spencer Platt Images/Getty
Our three-day long nightmare is over: Carnegie Hall and the union representing its five full-time stage hands worked out a deal to get back to work, with the hall agreeing to hire one more stage hand to work in its new education wing. The current staff stage hands make an average of more than $400,000 a year each.